Where to Get: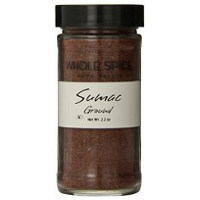 Pure Sumac Powder (Additive-Free)
So you're looking to buy 100% pure sumac that contains no salt or other additives? If you live in the US or Canada, check out the tips below to make the most out of your next sumac purchase; if you live in the UK, see Buying Sumac in the UK. Disclosure: This page contains sponsored/affiliate links – if you purchase a product through these links, the author of this article will receive a small commission, of course without any extra cost on your part.
Where to Get Pure Sumac
If you live in a major city like New Work, Los Angeles or Toronto, you may be able to find a local Middle Eastern store or gourmet shop that sells powdered sumac berries. But there's a chance that the product also contains salt, citric acid or other additives.
If you cannot find pure sumac that is free of additives and preservatives in the shops in your area, don't worry – you can always order it online! The online retailer Amazon, for example, sells several brands of sumac, including a number of additive-free powders. If you don't know which brand to pick, here are two products that are definitely worth checking out:
Whole Spice Inc's Sumac, 2.2 Ounces
Season with Spice's Sumac, 4.8 Ounces
100% pure sumac packed in cute glass jars (2 jars, 2.43 oz each)
From a Minnesota-based supplier of premium spices and hand-crafted blends
Available through Amazon.com here
Buying in Bulk
If you plan to use sumac only occasionally and/or in small quantities, it is best to purchase it in small quantities and replenish your supply when you run out of it. Why? Because sumac, like other ground spices, lose some of their flavor and potency when stored for extended periods of time.
On the other hand, if you have a big family to feed and love cooking Middle Eastern food, or if you own a restaurant, you might want to buy sumac in bulk to save some hard-earned cash. If you live in the US or Canada and are looking to buy ground sumac in bulk, be sure to check out Whole Spice Inc's attractive bulk offer:
Whole Spice Inc's Sumac, 1 Pound
What is Sumac, Anyway?
Chances are you landed on this page because you are already familiar with sumac. But just in case you missed the memo, sumac (also spelled sumach) is a tangy, lemony spice often used to add flavor to Mediterranean and Middle Eastern dishes. It is commonly used in salads instead of lemon juice and to season meat, poultry and fish. This purplish red spice is also delicious – and beautiful – sprinkled over hummus (Middle Eastern chickpea dip) and pureed soups. It can also be used to flavor popcorn instead of salt.
Related Content

Where to Buy Pure Turmeric Powder in Organic Quality?
Having trouble finding plain turmeric powder in ogranic quality? Check out these tips.
More to Explore
Sponsored Links / Ads