Buying Ground Sumac in the UK – Tips
Sumac, typically sold as finely-ground powder, is a reddish-purple spice popular in Middle Eastern cuisine. In countries like Iran, Turkey, Lebanon and Egypt, pure powdered sumac is commonly used to add lemony flavor to salads and meat dishes. It is also a key ingredient in za'atar, a herb and spice mix that is popular throughout the Middle East.
In recent years, sumac has also been gaining popularity among British foodies, partially thanks to its appearance in cookbooks like the award-winning Persiana – written by Sabrina Ghayour, an Iranian who grew up in the UK – and the classic Ottolenghi Cookbook by Yotam Ottolenghi, an Israeli-born chef and the owner of some of London's finest delis and restaurants in Soho, Islington, Notting Hill and Belgravia.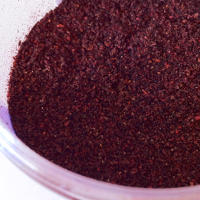 Both pure sumac with no salt added and spice mixes containing sumac, salt and other seasonings are increasingly available in gourmet shops in the UK, but the prices can be pretty steep. For a better deal, head to your local Middle Eastern market, or compare and buy sumac products online. If you are planning make a lot of Middle Eastern dishes in the near future, you might also want to consider buying sumac in bulk in order to save some more hard-earned cash.
Below, we've included a couple of tips for those who want to buy sumac online and have it shipped to an address in the UK. If you're looking to buy a packet of this tangy goodness in North America, check out our tips for finding sumac in the US and Canada. Note that some of the links on this page this site are 'affiliate links', meaning that by purchasing items through these links you will be supporting HealWithFood.org (without any extra cost on your part).
The Deal
Description

Plain Sumac: Pure and Cheap

If you don't care for fancy packaging and exotic additives, check out this offer on Amazon.co.uk. The package contains about 125 grams (4.4 ounces) of ground sumac with no salt added, so you can decide yourself what other spices, if any, you want to blend it with. The sumac berries this product contains come from Turkey.

The Bulk Option

If you're planning on using sumac a lot in your cooking over the coming weeks and months, you might want to buy it in bulk to save some cash. Check out this offer if you're looking to order a larger quantity of plain, salt-free ground sumac online. The package contains around 500 grams (1.1 pounds) of sumac.

Sumac Salt: A Cute Gift

Salt-free sumac (see above) is obviously more versatile than the gourmet blends that combine sumac with salt, but if you're looking to give sumac to someone as a gift, you might want to consider going for the more elegant gourmet salt option. Fine Food Specialist's artisan sea salt & sumac blend – available through Amazon's UK site here – comes in a cute glass jar and contains 60 grams (2.1 ounces) of hand-blended sumac & sea salt spice mix.