Health Benefits of Wild Strawberry Leaf Tea
Herbal tea made by infusing strawberry leaves – especially wild strawberry leaves – in hot water has a long history both as a culinary treat and as a herbal remedy. In folk medicine, this caffeine-free alternative to black tea has been used to treat everything from gastrointestinal problems and rheumatoid arthritis to excessive menstrual bleeding and water retention. Scientific research on the health benefits of wild strawberry leaf tea, however, is somewhat limited. What we do know is that wild strawberry leaf extract has extremely strong antioxidant properties in vitro and that is has vasodilatory effects, similar to those of hawthorn leaf extract. Scientific studies have also proven that wild strawberry leaves are a good source of ellagic acid (compound with anti-cancer potential) and tannins (polyphenols that have been used to treat diarrhea). To get the full lowdown on the potential health benefits of wild strawberry leaf tea, keep reading.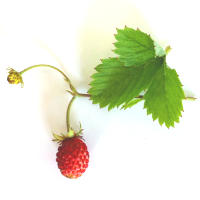 Note: If you can't find strawberry leaf tea in the shops near you, scroll down to the end of this article where you find tips on where to buy organic strawberry leaf tea online.
Wild Strawberry Leaf Extract Ranks on Top in Terms of Antioxidant Activity
Wild strawberry leaf tea may be a great option for those who want to keep their antioxidant levels topped up and are looking for a caffeine-free alternative to green tea or black tea. A study published in the Czech Journal of Food Sciences found that a water extract of wild strawberry leaves had the strongest antioxidant activity among the tested herb and berry extracts, as measured by DPPH free radical scavenging ability. This study assessed the antioxidant activity of water extracts of 17 medicinal herbs and berries, including oregano tops, blackberry leaves, raspberry leaves, rosehips, thyme tops, nettle flowers, mint, elderflowers, linden flowers, chamomile flowers, blueberries, rowan berries and sea-buckthorn berries.
Vasodilatory Effects
While it is too early to state that wild strawberry leaf tea is good for people with high blood pressure, the results of early research carried out in animals have been promising. A Croatian study published in the journal Phytomedicine in 2009 found that an aqueous extract of wild strawberry leaves had marked vasodilatory activity in isolated guinea pig hearts and rat aortic rings. In terms of potency, the vasodilatory effects of the wild strawberry leaf extract were similar to those of hawthorn extracts. The vasodilatory effects of hawthorn leaf extracts have been well documented, which is why the researchers chose hawthorn (Crataegus oxycantha, L) as the reference plant for this study.
As you may know, vasodilators are substances that dilate blood vessels. They work by relaxing the muscles in the walls of your arteries, allowing the blood flow more easily. As a result, your heart doesn't have to pump as hard and your blood pressure is reduced.
Wild Strawberry Leaves Contain Ellagic Acid
You may have already heard of ellagic acid, a compound that has been shown to neutralize cancer-causing substances, boost the immune system, and induce apoptosis (self-destruction) of cancerous cells. Wild strawberries, raspberries, blackberries, pomegranates, and cranberries are perhaps the most famous food sources of ellagic acid, but also some edible leaves – including wild strawberry leaves and blackberry leaves – have been shown to contain this powerful anti-cancer compound. Whether drinking strawberry leaf tea can actually have any significant anti-cancer effects in humans, however, has not been evaluated in clinical trials (as of the writing of this article).
Tannins in Wild Strawberry Leaf Tea May Provide Benefits for the Gastrointestinal Tract
Infusion made from wild strawberry leaves has been traditionally used to treat diarrhea, indigestion, and dysentery, and now there's at least some evidence to support this use. A study published in Gene, Genome and Genomics in 2011 analyzed the phytochemical composition of wild strawberries native to Chile and found that them to be a rich source of tannins. Also the leaves of cultivated strawberries have been shown to contain significant amount of tannins. Tannin-rich plant extracts have been widely studied, particularly in relation to their anti-diarrhea activity.
Uses in Folk Medicine
Folk healers and practitioners of herbal medicine have also used wild strawberry leaf tea to treat conditions like rheumatoid arthritis, skin rashes, respiratory complaints, leucorrhoea, catarrh, nervousness, excessive menstrual bleeding, and water retention. However, no or limited research is available to support these uses.
Where to Get Wild Strawberry Leaf Tea
It can be difficult to find wild strawberry leaf tea in regular stores in the UK and the US, but luckily you can buy pure dried wild strawberry leaves (Fragaria vesca leaves) online. Amazon.com, for example, sells Starwest Botanicals' dried wild strawberry leaves in USDA-certified organic quality here. If you live near a clean forest, you can of course also pick your own wild strawberry leaves and dry them in a high quality food dehydrator.
References
1. L. Burikova and Zuzana Reblova (2008). Czech Medicinal Plants as Possible Sources of Antioxidants. Czech Journal of Food Sciences, 26: 132-138.
2. I. Mudnic et al (2009). Cardiovascular effects in vitro of aqueous extract of wild strawberry (Fragaria vesca, L.) leaves. Phytomedicine, 16, 462-469.
3. I. Schemda-Hirschmann (2011). Chemistry of the Chilean Strawberry (Fragaria chiloensis spp. chiloensis). Gene, Genome and Genomics, 5 (special issue 1), 85-90.
4. A. Hukkanen et al (2007). Benzothiadiazole induces the accumulation of phenolics and improves resistance to powdery mildew in strawberries. J Agric Food Chem, 2007 Mar 7;55(5):1862-70.

Don't Miss This

10 Awesome Cookbooks Packed with Kale Recipes
Need ideas on how to incorporate kale into your diet? Then check out these books.
More from HealWithFood.org
Book You May Like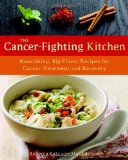 This award-winning cookbook and nutrition guide teaches cancer patients and caregivers how to build a cancer-fighting arsenal using powerhouse foods. The 150 science-based recipes – each accompanied with a full nutritional analysis – have been formulated to address specific cancer types, treatment phases, side effects, and flavor preferences. If you live in the US or UK, check out the current price and reader reviews
here
.