Comparison of Chef's Choice Food Slicers (incl. Models 615, 632, 640, 662 and 667)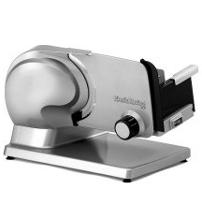 The Chef's Choice food slicers manufactured by EdgeCraft have become hugely popular in the United States, both among health-conscious gourmands looking to create their own preservative-free deli-style cold cuts and among small business owners and managers looking to equip their commercial kitchens with affordable, professional-quality food slicers. In this review, we cover popular models designed for home use (including compact deli slicers, such as the Chef's Choice 609, 610 and 615, and bigger models such as the 630, 632, 640 and 645) as well as Chef's Choice's 662 and 667 slicers, the two commercial-quality models manufactured EdgeCraft.
What All Chef's Choice Slicers Have in Common
All Chef's Choice electric food slicers available in the US and Canada share several features and have a number of common competitive advantages:
Budget-friendliness
All of Chef's Choice food slicers, even the commercial-quality models 662 and 667, carry very reasonable price tags compared with some of the competing brands. And, once you've got yourself a Chef's Choice electric slicer, you'll be able to cut your grocery bills by buying unprocessed meat and poultry in bulk, and turning them into thin, deli-style slices at home.
Metal construction
All of the models designed for home use (i.e. models 609, 610, 615, 630, 632, 640 and 645) as well as the commercial models, 662 and 667, are primarily made of stainless steel and cast aluminum. You should note, however, that all of them feature some plastic parts, with the lightest model – the Chef's Choice 609 Slicer – having the highest percentage of plastic components.
Versatility
Chef's Choice food slicers are perfect for people who want to create their own preservative-free, low-sodium deli meats, but slicing meat is just one of the many tasks these kitchen workhorses perform with ease. If you make your own bread, whether by hand or using a bread maker, an automatic food slicer can be an invaluable addition to your kitchen as it creates neat, even slices of bread. Meat and bread aside, Chef's Choice slicers also turn cheese, vegetables and fruit into perfectly-shaped slices of any standard thickness – perfect for making potato chips, pickled cucumbers, and perfectly even slices of fruit for the food dehydrator.
Excellent user reviews
EdgeCraft, the company behind the Chef's Choice brand, has a bold tagline: A Passion to Create the World's Best. And judging by the hundreds of excellent reviews Chef's Choice electric slicers have received from Amazon.com customers, the Pennsylvania-based EdgeCraft takes its tag line seriously. To read some of the user reviews for Chef's Choice slicers, both good and bad, click here (

if you live in the US) or here (

if you live in Canada).
Comparison Chart to Help You Choose the Best Model
Below, we provide a side-by-side comparison of popular Chef's Choice food slicers to help you pick the best machine for your purposes. The models included in the chart are available in the US and Canada, and can be purchased conveniently online through Amazon.com or Amazon.ca. These models are, however, not widely available in the UK and Continental Europe, there are plenty of other food slicers that are sold in the UK.
*Approximate
Source: EdgeCraft, November 2014