Space Saver:
Pull-Out Spice Rack (Mounted Under Cabinet or Shelf)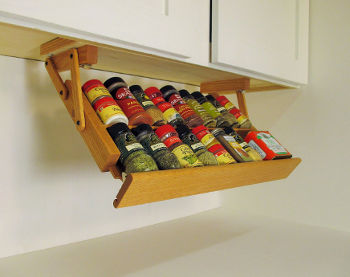 Storage space is at a premium in almost any kitchen, which is why space-saving solutions are such a hot commodity. The pull-out spice rack manufactured by Ultimate Kitchen Storage – pictured on the left and available through Amazon here – is one example of an ingenious, space-saving solution. Hand-crafted in the USA, this wooden spice rack folds up securely under your upper kitchen cabinet when you don't need it. And, when it's time to season your dishes, all you need to do is pull out the spice rack. Here's a rundown of the benefits of getting one of these clever kitchen accessories, plus tips on where to buy one.
Disclosure: This page contains affiliate links, which means that if you buy a product using those links, the author of this article will receive a small commission (of course without any extra cost on your part).
Why You Should Get a Foldable Spice Rack
If you're an avid home cook and love to use spices and herbs, chances are your spice cabinet is a little crowded and you'd welcome some extra space. Or perhaps you live in a small apartment and don't even have a proper spice cabinet. Either way, Ultimate Kitchen Storage's folding spice rack may well turn out to be one of the smartest things you've ever installed in your kitchen. Provided that you have a shelf or kitchen cabinet under which this little spice rack can be mounted, you won't actually need to free up any countertop or cabinet space for this spice organizer. In fact, this clever spice rack will create new storage space out of, quite literally, air!
This is also what makes this folding spice rack different from many other foldable models, such as the as-seen-on-TV Swivel Cabinet Organizer, the Rubbermaid spice organizer, and similar spice racks. If you've seen the TV spot for the Swivel Organizer, you already know that it merely makes better use of existing kitchen cabinet space (i.e. it won't create a whole new storage space for your spices). Similarly, the Rubbermaid pull-down spice organizer takes up space it needs to be installed on an existing shelf.
Ultimate Kitchen Storage's wooden pull-down spice rack is also a great choice for those who like to keep their foods hidden rather than exposed, creating a neater, cleaner-looking kitchen. Keeping spices out of sunlight also helps protect their flavor and aroma.
What's more, as this pull-out spice rack can be mounted under almost any upper cabinet in your kitchen, you'll be able choose a spot that is optimal for storing spices and dried herbs. Despite the fact that many, if not most, spice cabinets are located above the stove, the ideal place for storing these delicate ingredients is not close to the stove. Spices and herbs should be kept in a dry and cool place, and the cabinet or shelf over the stove is usually neither dry nor cool. Other places to avoid when looking for a spot for your new under-mount spice rack include shelves near the dishwasher, sink, and microwave.
Where to Buy One?
So you think Ultimate Kitchen Storage's pull-out spice rack might be just the perfect solution for your kitchen? The probably easiest way to buy this clever space-saver is to purchase it online and have it shipped directly to your home. Made in the USA, this under-mount spice rack is available through Amazon here.