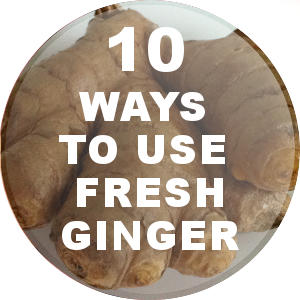 10 Ways to Use Fresh Ginger Root (incl. Recipes)
You can use fresh ginger root in so many sweet and savory recipes, way beyond the typical stir-fries and ginger root tea (although those are great, too). From healthy beverages to exciting entrees, here are 10 smart ways to use fresh ginger root in the kitchen and beyond:
1. Juice It!
Give your homemade fruit and vegetable juices a new twist by passing a slice of fresh ginger through your juicer before juicing the other ingredients. Incorporating ginger into homemade fruit juices is also one of the best ways to reap the wonderful health benefits of fresh ginger root. Tip: Fruits and vegetables that pair well with ginger in juices include carrots, oranges, mandarines, apples, and grapefruit.
2. Use Fresh Ginger to Add Zing to Smoothies
A little bit of grated fresh ginger root will take any fruit smoothie – or green smoothie – from boring to bold. To make a gingery fruit smoothie, simply add a teaspoon of peeled and grated fresh ginger root into your favorite smoothie. The zesty flavor of ginger makes it a particularly good addition to smoothies starring strawberries, mango, apples, oranges or kale. Tip: If you're looking for a more precise smoothie recipe featuring ginger, check out this gingergy fruit smoothie or this ginger, carrot and orange smoothie.
3. Make Ginger-Flavored Applesauce
Making applesauce is one of the best ways to use up apples, but it can also help you get rid of that extra ginger sitting in your fridge. The following recipe pairs apples with ginger and other warming spices to create delicious applesauce that can be served warm or chilled:
Recipe for Ginger-Flavored Applesauce

Ingredients
3 pounds Golden Delicious apples (or other apples that are good for applesauce)
1/2 cup apple juice
2 tablespoons lemon juice
1 tablespoon freshly grated ginger root
2 cinnamon sticks
8 whole cloves
Sugar, as needed
Instructions
Core and quarter the apples and place them, along with the apple juice and lemon juice, in a heavy saucepan. Cover and bring to a boil, then reduce the heat to a simmer. Add the grated ginger and other spices, and simmer, stirring often, until the apples for 15 to 20 minutes, or until the apples are soft. Taste the sauce towards the end of the cooking process and add sugar, if needed. Allow to cool, then mash with a fork or potato masher. This ginger-flavored applesauce is perfect served with pancakes or on top of oatmeal.
4. Use fresh ginger in salad dressings
You can also use fresh ginger root in salad dressings. Here's a simple recipe for a zesty salad dressing featuring freshly-grated ginger root:
Salad Dressing Recipe

Ingredients:
6 tablespoons extra-virgin olive oil
Juice of one lime
1 1/2 teaspoon lavender honey
1 tablespoon peeled and grated fresh ginger
1 pinch sea salt
1 pinch freshly ground black pepper
Directions:
Put all the ingredients in a mason jar, screw on the lid, and shake well. To let the flavors mingle, place the jar in the refrigerator for an hour. Remove from the fridge, shake the jar again and serve the dressing with your favorite fresh greens.
5. Make Ginger Tea
There's no need to buy prepackaged, dry ginger tea when you can make your own fresh ginger root tea – all you need is sliced or grated ginger root and hot water. Bonus tip: If you love the invigorating effect of fresh ginger tea, try this: cut the extra ginger root languising in your fridge into thin slices and freeze the ginger slices in small portions, each portion packing enough ginger goodness for one serving of tea (a BPA-free ice cube tray is perfect for this purpose).
6. Use it as a Substitute for Dried Ginger Powder
If you have a recipe that calls for ground ginger but you only have fresh ginger, try using a small amount of peeled and grated fresh turmeric as a substitute. To substitute fresh ginger for the ground spice, use about 1 tablespoon grated fresh root for 1/8 teaspoon ground ginger.
7. Use it in Stir-Fries
You can't go wrong by using finely shredded or minced fresh ginger root in Asian-style stir-fries. Fresh ginger is typically added to the wok at the beginning of the cooking process, along with oil and garlic. For exciting stir-fry recipes, check out award-winning cookbook Stir-Frying to the Sky's Edge.
8. Use Fresh Ginger Root in Pureed Soups
The combination of carrots and fresh ginger root is soothing and satisfying, which is probably why the internet is full of recipes for soups starring carrots and ginger. Other ingredients that pair well with ginger in soups include sweet potatoes, pumpkins, parsnips, lentils and apples. Here's a simple recipe for a smooth carrot and ginger soup:
Carrot and Ginger Soup

Ingredients:
2 tablespoons olive oil
1 red onion, chopped
2 tablespoons grated fresh ginger
1 clove garlic
10 medium large carrots, sliced
6 cups low-sodium vegetable broth
Salt and freshly ground black pepper, to taste
Directions:
Saute the onion in the olive oil until softened, about 6 minutes. Add the ginger and garlic, and continue sauteing for another minute or two. Add the carrots and broth, and bring to a simmer. Let the soup simmer until the carrots are tender, about 20 minutes. Remove the soup from the heat and let it cool slightly, then puree it in batches. Serve warm or cold.
9. Dehydrate Fresh Ginger and Make Ginger Powder
If you're running out of ideas for what to do with all that fresh ginger in your fridge, consider dehydrating sliced or chopped ginger root in a food dehydrator. You can then grind the dehydrated pieces to make your own ginger powder and use it to spice up soups, stir fries, salad dressings, marinades, etc.
10. Turn it into a Thriving House Plant
If you get bored using ginger in your recipes, here's an alternative use for ginger root: turn it into a house plant by planting it in a medium-sized pot filled with moist soil! If the ginger root you want to plant is very big, you can cut it into a few pieces as long as you make sure each piece has a few nodes or buds from which to sprout. Bonus tip: For more ideas on how you can turn leftover food and kitchen scraps into thriving house plants, check out the book Don't Throw It, Grow It!.
Don't Miss This

BPA-Free Food Steamers Sold in the US, UK and Canada
Looking to buy an electric food steamer that's free of BPA? Check out these tips.
More to Explore
Book You May Like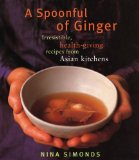 Nina Simonds is one of America's leading authorities on Asian cooking, a keen advocate of the Chinese holistic approach to health, and the author of a fascinating cookbook titled A Spoonful of Ginger. In this award-winning cookbook, Simonds provides 200 irresistible, health-giving recipes from Asian kitchens, covering everything from soups and seafood dishes to stir-fries and salads. A must-have for lovers of Asian cuisine, this inspiring book is available through Amazon.