Bundt Pan Made of Glass (Not Non-Stick)
Sure, bundt cake pans with non-stick coatings are easy to use and clean, but many health-conscious baking enthusiasts are growing increasingly leery of the safety of non-stick bakeware. If you are one of them, take heart: bundt pans made of glass are now available to consumers across North America or the UK! Of course, glass bundt pans are not the only option you have if you are looking for an alternative to the popular Teflon-coated bundt pans, but they are definitely one of your best bets if you're looking for a cake mold made without potentially toxic coatings or components.
Meet Simax' Glass Bundt Cake Pan!
With a stunning design, Simax' glass bundt pan turns out elegant fluted tube cakes and festive breads perfect for parties and holidays, or when you just want to treat your family to something special. It is also great for savory options such as casseroles. Made of glass, this bundt-style cake pan distributes heat evenly, and you can watch your cake bake in this cute see-through mold. Glass also has the advantage of being non-reactive, so you can use your glass bundt pan also for storing food without having to worry about the food picking up metallic flavors. Manufactured by Kavalier, a leading European producer of borosilicate glass with a history dating back to the 19th century, Simax' bundt pan is ideal for those who are looking for a non-toxic, not non-stick pan for making bundt-style cakes, which are typically bigger than regular ring cakes. (Note: If you're looking for a smaller and less decorative ring cake pan made of glass, check out the related article on glass tube pans for ring cakes).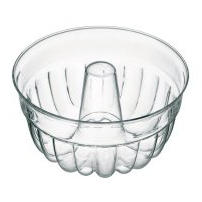 Where to Get It
Think Simax' bundt pan is just the right addition to your baking repertoire? With just a few clicks and a credit card, you can buy this lovely glass bundt pan through Amazon's global site (or one of its local sites) and have it shipped directly to your home:
Other Non-Teflon Fluted Tube Cake Pans
If you're looking to buy a non-Teflon bundt pan, there are a couple of other materials you might want to look into, besides glass. Silicone is one such material, and you'll be able to buy silicone bakeware in practically every department store in the US, Canada and the UK. Some of them even sell silicone molds specifically designed for fluted tube cakes, but you can also buy silicone bundt molds on Amazon. Although silicone cookware is generally considered safe, some home cooks have complained about certain silicone molds imparting a funny smell and taste to baked goods. Plus, some silicone molds contain fillers that in turn may contain BPA (Bisphenol-A) and other controversial chemicals. What's more, unlike glass which has been used in various applications for millennia, silicone is a relatively new a material, and we know a lot less about its properties than we know about glass. Also the new non-stick ceramic-coated bundt pans that are marketed as an alternative to Teflon cake pans have been around for a fraction of the time glass has been around.
Sponsored Links / Ads
Don't Miss This

Silicone-Encased Glass Water Bottles: Durable and Non-Toxic
Silicone-wrapped glass water bottles are all the rage among health-conscious consumers.
More Cool Products