In the Spotlight:
Silicone-Protected Glass Lunch Boxes and Food Containers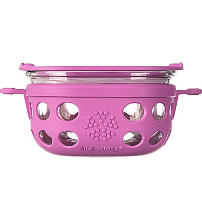 Meet Lifefactory's silicone-protected glass lunch boxes (pictured on the right)! They are durable, BPA-free, dishwasher-safe and heat-resistant, and they come in a number of colors, from cute pink and vibrant orange to stylish gray and attractive green. Made of tempered glass and protected by a durable and easy-to-hold silicone sleeve, these food storage containers are perfect for taking a healthy meal to work or school, or for storing leftovers from lunch or dinner. If you live in the United States, you can order Lifefactory's products conveniently through Amazon main site (

click here to buy them through Amazon.com. If you are looking to buy one of these silicone-wrapped glass lunch boxes in Canada, you can also

buy them through Amazon.ca. Or, if you still want to learn more about the benefits of these new generation lunch boxes before buying one, keep reading!
Glass Containers – Green, Odorless, BPA-Free
Glass is 100% recyclable and therefore one of the most environment-friendly materials out there. But glass lunch boxes and food containers are not only good for the environment; they are also considered one of the best options for people who are looking to reduce their exposure to potentially toxic chemicals such as BPA and phthalates (often found in plastic containers). When storing your or your child's lunch in a food container made of glass, you don't have to worry about chemicals like BPA, phthalates, PTFE, or PFOA leaching into the food.
What's more, if you're fed up with containers made of plastic, metal or silicone giving the contents of your lunch box a funky plasticky or metallic taste or smell, take note: a glass lunch box won't taint the original taste of the meal it contains! These properties of course also apply to other products that are primarily made of glass, including non-plastic water bottles made of glass, blenders with glass containers, soup makers with glass jugs, yogurt makers with glass cups – and more!
Silicone Sleeve – An Ingenious Solution to the Breakability Problem
But glass has one major drawback: it breaks easily. And, in case of products like lunch boxes which are frequently transported in backpacks and kids' school bags, breakability can be a real problem. Now that's where Lifefactory's glass lunch boxes with protective silicone sleeves come in: the silicone sleeves turn traditionally unportable glass food storage containers into portable lunch boxes that can be taken to work, school, the gym, or on the road. In addition to helping prevent the glass containers from breaking on impact, the protective silicone sleeve adds grip, which further reduces the risk of breakage. (Note: Lifefactory also manufacturers glass water bottles with silicone jackets – to learn more, see Silicone-Encased Glass Water Bottles.
Lifefactory's Glass Lunch Boxes Are Dishwasher-Safe – and More!
Lifefactory's silicone-encased glass lunch boxes and food storage containers are dishwasher-safe, and the sleeves do not need to be removed before popping the container into the dishwasher, which makes clean-up a snap! The glass container and the silicone sleeve are also oven-safe up to 425°F. The polypropylene lid is made in the USA and is free of bisphenol-A (BPA) and Bisphenol-S (BPS). If you live in the United States or Canada, you can order Lifefactory's silicone-wrapped glass containers conveniently through Amazon: