10 Ideas on How to Cook and Eat Green Beans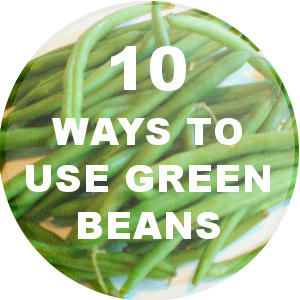 Looking for ideas on how to use up those green beans lingering in your fridge? Look no further! Below we take a look at ten ways to cook and eat green beans, also known as string beans or snap beans. These ideas also work fine if you have extra haricots verts you need to use up (haricots verts are longer and thinner than regular green beans).
1. Use Cooked and Chilled Beans in Salads
Steamed and chilled green beans make a wonderful base for salads, especially if you're looking for a filling salad that will keep you going for hours. In salad recipes, green beans are often combined with ingredients like Walnuts, tomatoes, onions, garlic, potatoes and vinaigrette-style dressings.
2. Add Them to Soups
Another great way to eat green beans is to add them to vegetable soups. If you already have a good recipe for a vegetable soup, you can use that and just replace some of the other vegetables with green beans. If you don't have one, try this simple recipe:
Trim and rinse 1 pound (about 450 grams) raw vegetables of your choice (including some green beans). Chop the vegetables, or cut them into small cubes.
Fry the chopped or cubed raw vegetables in 1 tablespoon of olive oil for a few minutes, and cover with 3 cups of stock.
Simmer for about 10 to 25 minutes, until the vegetables are tender.
Set aside, and blend with a hand blender until smooth, then season with freshly ground black pepper and salt.
Serve with chopped fresh herbs.
3. Treat Yourself to a Green Bean Sandwich
Eating green beans in a sandwich may sound like a weird idea, but trust us on this one – cooked green beans are downright delicious in sandwiches, provided you combine them with the right flavors. Sandwich ingredients that pair well with green beans include avocado, basil, apples, bell peppers, onions, parsley, tomatoes, creme fraiche, butter and pesto. To learn more about how to pair plant-based foods to create heavenly flavor combinations, check out our interview with Karen Page, author of the Vegetarian Flavor Bible.
4. Make a Green Bean Omelette
You can also use cooked green beans to add bulk and vibrant green color to omelettes or scrambled eggs. Just throw them in with your egg ingredients, pick out a complementing cheese (if desired), and you are good to go.
5. Grill 'em!
Green beans aren't the first thing most people think to grill, but they can be delicious when cooked on a grill. To prepare regular green beans or haricots verts for the grill, put them on a sheet of aluminum foil and toss with extra virgin olive oil, salt and freshly ground black pepper. Add a few tablespoons of water, and fold the foil to create a pouch. Cook the green bean pouch on a medium-hot grill for about 8 to 10 minutes.
6. Use Green Beans in Pasta Dishes
Another great way to eat green beans is to incorporate them into pasta dishes. You can boil the beans together with the pasta, adding rinsed and trimmed beans to the boiling water about 5 minutes before the pasta is expected to be done. Cooked and chilled green beans are also great in cold pasta salads.
7. Top Your Pizza with Green Beans
Give your pizza a new twist by topping it with cooked green beans, along with other more common toppings. As weird as it may sound, green beans are actually delicious on pizza, plus this is a great way to use up those leftover beans in your fridge!
8. Use Them as Lasagna Filling
Here's another great idea for those who like Italian cuisine: use some regular green beans or haricots verts to healthify your lasagna filling next time you make this Italian favorite! You can either replace all of the meat in your lasagna recipe with cooked green beans, or only a portion. Or, combine green beans with other vegetables like bell peppers, tomatoes or potatoes for an even more exciting lasagna filling.
9. Eat Green Beans in Tacos
Yet another great way to eat cooked green beans is to eat them in taco shells, along with other, more typical, taco fillings such as salsa, lettuce, tomatoes, guacamole and onions. As green beans are both bulky and nourishing, you won't even have to add meat to make your veggie tacos feel like a real meal.
10. Serve Them Sauteed
Sauteing is one of the most delicious ways to cook green beans, and if you do it the right way, your beans will retain their wonderful bright green color. So here's the trick: before sauteing the beans in a skillet greased with olive oil, blanch them in boiling salted water for 1 to 2 minutes, drain, transfer to a bowl of ice and cold water to stop the cooking process, and drain again. This little trick will help keep the beans vibrant green and beautiful for the plate.
You May Also Like

Soup Maker: A Blender That Makes Both Soups and Smoothies
Why get a regular blender that only makes cold meals if you can have one that also cooks?
More to Explore
Book You May Like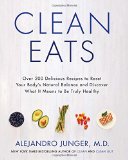 Cardiologist Dr. Alejandro Junger is a leader in the field of integrative medicine, a New York Times bestselling author, and the creator of a fascinating cookbook called Clean Eats. In this much-anticipated cookbook Dr. Junger provides over 200 extra-healthy recipes plus detailed nutritional information, daily meal plans, and tons of practical tips to help your restore your health and shed off extra pounds. To order a copy, go to:


Amazon.com


Amazon.ca


Amazon.co.uk