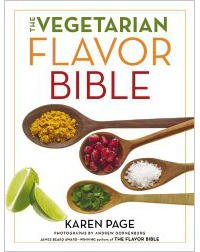 The Vegetarian Flavor Bible is not your average cookbook: instead of focusing on recipes, this empowering cookbook delivers ideas and inspiration by providing an A-to-Z listing of hundreds of plant-based whole foods, cross-referenced with the herbs, spices, and other seasonings that best enhance their flavor. Available from Amazon.
The Vegetarian Flavor Bible: 1000s of Ideas for Healthy Meals
Karen Page is an acclaimed culinary expert and award-winning author with a number of famous books under her belt, such as The Flavor Bible, which was named one of the ten best cookbooks in the world of the past century by Forbes. Her most recent book, The Vegetarian Flavor Bible, is essentially a healthier (and bigger) version of the legendary Flavor Bible that teaches us what flavors pair well and what flavor combinations you should avoid. Born out of Karen's increasing interest in the scientifically-proven health benefits of plant-based meals, The Vegetarian Flavor Bible provides ideas and inspiration – rather than recipes – for anyone interested in preparing healthier meals without compromising flavor. Some of the highlights of this fascinating reference and guide book include:
Profiles of hundreds of healthy plant-based ingredients, including information about their flavor profiles and flavors they go well with, resulting in literally thousands of vegetarian and vegan meal ideas for professional chefs and inquisitive home cooks alike
Additionally, each food entry provides information about substitute ingredients, seasonality, nutrient composition, and preparation/cooking tips
Tips for turning popular non-vegetarian and non-vegan dishes into plant-based dishes without sacrificing flavor or texture
Techniques that America's leading vegetable-loving chefs use to maximize the flavor of their plant-based culinary creations
Stunning photography by Andrew Dornenburg who is a trained chef, co-author of the original Flavor Bible and Karen's husband of 24 years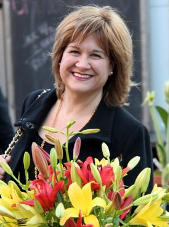 Since the release of her bestselling, award-winning cookbook The Flavor Bible in 2008, author and culinary expert Karen Page has adopted a 99% vegetarian diet, earned a certificate in plant-based nutrition from Cornell, and compiled the secrets of America's leading vegetable-loving chefs into a massive 576-page guide, The Vegetarian Flavor Bible (available both as an ebook and in hard cover)
Interview with Karen Page, Author of The Vegetarian Flavor Bible (October 2014)
Below, the author of The Vegetarian Flavor Bible, Karen Page, answers some questions about her new book and vegetarian lifestyle.
1. I'm a big fan of kale. What vegetables, herbs and spices pair well with kale?
I think it's important to consider the essence of an ingredient – especially its flavor, which encompasses taste, aroma, mouthfeel (e.g., texture), and more – when deciding what to add to it to enhance it. Kale is predominantly bitter, with a rather rough texture, so technique-wise, you might want to consider ways to soften it to make it even easier to eat. I like massaging kale with Dijon mustard or other dressings which allows it to soften while absorbing flavor. At home, Andrew likes to julienne kale and toss it into soups, stews, pasta sauces, and risottos, where it wilts.
Flavor-wise, kale has a wide variety of highly recommended pairings – including beans (e.g., white), cheese (e.g., Parmesan), chiles (e.g., chili paste or chili pepper flakes), garlic, lemon, mushrooms, onions, potatoes, salt, and vinegar (e.g., balsamic), which all appear in BOLD CAPS under its listing. Other recommended pairings include almonds, apples, avocado, barley, basil, beets, bell peppers, Brussels sprouts, caraway seeds, carrots, cheese (e.g., feta, Pecorino), chickpeas, chives, cranberries (e.g., dried) – and that's just the bolded pairings through the Cs!
I typically start by reviewing the pairings in bold and BOLD CAPS to see which make my mouth water, and use that as the starting point to add other compatible ingredients that pair well with both kale and the first ingredient I've selected. For example, if it's breakfast time and we're making tofu scrambles, and I want to add kale, I might also add garlic, mushrooms, onions, potatoes, and rosemary, which are all compatible.
2. The most underrated vegetable?
Celery root is as ugly a vegetable as it is delicious, with its bitter/sour/sweet tastes and earthy notes of things like nuts, potatoes, and truffles. Those flavors are classically accented by ingredients such as apples.
Speaking of which, the other week, we had an incredible version of salt-baked celery root at Picholine in New York City, which used a cooking technique more typically applied to fish to maintain the celery root's moistness. Chef Terrance Brennan sliced the celery root thinly and used slices as gluten-free "ravioli," which were stuffed with wild mushrooms and topped with trumpet royale mushrooms and mushroom "Bordelaise" sauce, garnished with a few julienned apple slices.
(BTW, there's a photo of a gnarly example of celery root that opens Chapter 10 – "The Future of Food" – in the first (1995) edition of our first book Becoming a Chef which we chose because it's kind of mysterious, especially given how wonderful it tastes!)
3. The most surprising flavor combination you came across while researching The Vegetarian Flavor Bible?
We've been studying flavor for so many years now that it's honestly hard to be surprised anymore!
4. Any recent flavor discoveries you wish you could have included in the book?
We keep discovering new flavor secrets literally every day! We're currently on book tour with The Vegetarian Flavor Bible, so the other night after a book-signing event, we slipped into the French-Vietnamese restaurant Le Colonial in San Francisco for a late dinner. The dish of Dau Hu Chay – oven-roasted tofu wrapped in seaweed and tofu served with sautéed organic oyster mushroom, julienned chayote squash, and sweet-savory miso sauce – was absolutely delicious, and so closely resembled fish in flavor and texture that we both put our forks down to inspect the dish to make sure it was indeed tofu and not fish! The tofu had been sliced very thinly and layered with nori (seaweed), so it absorbed the flavor of the sea and very closely mimicked the flavor of fish, which we found brilliant.
5. Would you recommend The Vegetarian Flavor Bible to an omnivore home cook who has already got a copy of your previous cookbook, The Flavor Bible?
This week, the James Beard Foundation held its annual Food Conference with the theme "Health & Food: Is Better Food the Prescription for a Healthier America?" One doctor speaking on a panel quoted the statistic that half of the diseases that doctors treat their patients for are directly linked to diet. I'd previously seen the statistic that the #1 leading cause of death in America is nutritionally-controllable diseases (such as cancer, heart disease, and diabetes).
The Vegetarian Flavor Bible is more health-focused than its predecessor, and features color-coded dots (dark green, green) to guide readers to enjoy more nutrient-dense ingredients (e.g., fresh fruits, vegetables, and legumes) and red dots to use caution with less nutrient-dense ingredients (e.g., fats, oils, sugars). This is information that everyone who cares about their health finds useful, whether vegan or omnivore.
The Vegetarian Flavor Bible is 50% larger than its predecessor and goes into much greater detail about an even broader range of ingredients, including mushrooms, nuts and seeds, and whole grains (such as quinoa, which inexplicably wasn't included in The Flavor Bible, given that we've been writing about it since 1996!), so I'd recommend it to any professional chef or serious home cook looking for the latest, best insights into plant-strong cooking.
6. When cooking at home, how often do you and Andrew rely on tried-and-tested recipes, and how often do you experiment with new flavor pairings?
We probably rely on recipes in our kitchen about 1% of the time, as our dusty measuring cups attest! We're always playing with new flavors.
7. What are some of your favorite tips you picked up from the professional chefs you interviewed for this book?
There are too many to recount, as there are so many stuffed into the 576 pages of this book! But I'll go back to celery root for a minute, as I loved learning that chefs will puree it and add it to sauces instead of butter in order to add richness while keeping them vegan.
8. The Vegetarian Flavor Bible is as much about cooking and eating for health as it is about creating flavorful meals. What are some of the most important or surprising discoveries you have made about healthy eating over the past few years?
Having written about food professionally for two decades without any formal education in nutrition, it was eye-opening to go back to school to earn my Certificate in Plant-Based Nutrition through an extraordinary program offered by Cornell in conjunction with the T. Colin Campbell Foundation. The program offers a rigorously science-based curriculum developed by Dr. Campbell, who is the author of the million-copy bestseller The China Study, which is based on the most groundbreaking, far-reaching nutritional study ever conducted and which underscored the correlation between the overconsumption of animal protein (as we do in the United States, which has one of the world's highest rates of per-capita meat consumption) and high rates of chronic disease.
I'd never understood the dramatic connection between the two before – nor how much systemic pressure most people are under to overconsume meat, eggs, and dairy, given the powerful influence of these industries on government policy. I was shocked to learn that it took the Physicians Committee for Responsible Medicine (PCRM) suing the USDA in 1998 for a 2000 court ruling to determine that six members of the food policy-setting Dietary Guidelines Committee (out of 11, or the majority) had financial ties to the food industry. As PCRM President Dr. Neal Barnard observed, "Having advisors tied to the meat or dairy industries is as inappropriate as letting tobacco companies decide our standards for air quality."
9. In The Vegetarian Flavor Bible you mention you have been eating 99% vegetarian ever since you first experimented with vegetarianism in 2012. Do you ever find it challenging to stick to a vegetarian diet? Do you have any tips for new vegetarians and vegans who might be facing such challenges?
As we're lucky enough to live in New York City, which boasts some of the world's best vegetarian and vegan restaurants, not to mention widespread vegan options on other restaurant menus, and excellent availability of vegetarian and even vegan ingredients in grocery stores, it's relatively easy to eat vegetarian or even vegan at home. When we're out on book tour or otherwise traveling outside major cities, it can definitely be more of a challenge to eat anything other than the Standard American Diet (SAD) offerings, which emphasize processed foods (including an excess of white flour and white sugar), meat, dairy, and eggs. As 99 percent of the meat, dairy, and eggs consumed in the United States are factory-farmed, we have even more incentive to want to eat vegan but fewer options available. We're heartened to see the expansion of fast-casual vegan concepts like Native Foods and Veggie Grill, and even vegan-friendly options like LYFE Kitchen and True Food Kitchen, and to know that those delicious options will soon be more widely available during our travels.
10. What's your all-time favorite vegetarian recipe?
I've always loved Andrew's homemade split pea soup, which is one of his favorite dishes since childhood. He used to make it with chicken stock and ham hocks, but we've discovered it's just as delicious – and arguably more so – made with vegetable stock and smoked paprika.
In fact, we love veganizing our favorite dishes. Andrew applied the flavor principles of a beloved dish we first tasted at the winery Bodegas Farina in the Toro region of Spain which featured smoked paprika and potatoes with pork ribs, and substituted Portobello mushrooms for the ribs, which is divine.
11. What's for dinner tonight?
We're on book tour this week, so every night is something different. Last night was vegan pepperoni pizza that had little pools of cashew cream that were reminiscent of ricotta. Tonight, who knows? But we're sure it will be something plant-strong, and we're confident it will be something delicious.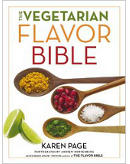 Get a Copy of the Vegetarian Flavor Bible!
Did this interview inspire you to start experimenting with plant-based flavors? If so, head to your local bookstore to pick up a copy of The Vegetarian Flavor Bible, the definitive guide to vegetarian flavor matchmaking. Or,
buy a copy of this 576-page tome on Amazon
.