Using the Veggie Bullet to Spiralize Zucchini into "Noodles" (Zoodles)
This recipe yields about 1 cup of zoodles
Zucchini that has been spiralized into noodle-like strips is a popular substitute for real grain-based pasta among Paleo enthusiasts and low-carb dieters. Also known as "zoodles", these imitation noodles are increasingly available in grocery stores, but it is also extremely easy to make zucchini "noodles" at home with an electric spiralizer such as NutriBullet's Veggie Bullet Spiralizer. Below, we provide step-by-step instructions on how to spiralize zucchini into zoodles using the Veggie Bullet. The directions provided below also apply to other types of spiralizable vegetables such as carrots, sweet potatoes and squash.
Note that before you can use the Veggie Bullet to spiralize zucchini and other vegetables, you have to set it up for the spiralizing function. The Veggie Bullet is a 3-in-1 food processor that comes with two attachments: a Spiralizer Attachment and a Shredding/Slicing Attachment. Consult the Veggie Bullet user manual for details on how to set up the machine for each of the functions.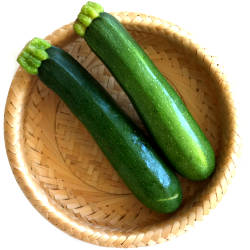 Ingredients
1 clove garlic
1 zucchini
1 Tbsp extra-virgin olive oil
1/4 cup water
Salt and pepper, to taste
Directions
Peel and mince the garlic. Wash the zucchini under cold running water, and remove the ends.
Set the Veggie Bullet for the spiralizing function, and spiralize the zucchini.
Heat the extra-virgin olive oil in a skillet and sauté the minced garlic over medium heat for 1 minute. Add the spiralized zucchini and continue to é for another minute or two, stirring frequently.
Add the water and continue cooking for 4 more minutes, stirring occasionally.
Remove from the heat, and season with salt and pepper.
Use your Veggie Bullet zoodles as a side dish or as a substitute for real noodles in savory recipes.
Thinking about getting an electric spiralizer?
Electric vegetable spiralizers such as the Veggie Bullet, Oster and Hamilton Beach spiralizers are all the rage among health-conscious cooks who love to turn zucchini into zoodles but hate the work involved in spiralizing it with a manual zoodle maker. Equipped with sharp blades and a motor, these ingenious kitchen gadgets transform vegetables into guilt-free "noodles" in a matter of seconds. As these noodle-shaped strips are made of fresh, unprocessed vegetables, they are perfect for almost any type of diet, including low carb, clean eating, Paleo, gluten-free and grain-free diets.
What's more, some of the best electric spiralizers also turn vegetables into other types of shapes. For example, the Veggie Bullet has a blade for shredding foods, so you can also use it to shred zucchini for muffins, cabbage for slaws, potatoes for hash browns, and hard cheeses for pasta dishes. Thanks to the shredding blade, you can also use the Veggie Bullet to make cauliflower rice, which is a popular substitute for real rice among Paleo folks and low-carb dieters. In addition to spiralizing and shredding foods, the Veggie Bullet also slices foods like potatoes, onions, carrots, cucumber, fruits and even cooked meat.
Sponsored Links / Ads
Don't Miss This

Which is Better, the Veggie Bullet or a Food Processor?
How does the Veggie Bullet compare with a regular food processor? Let's find out.
More to Explore