Veggie Bullet vs Food Processor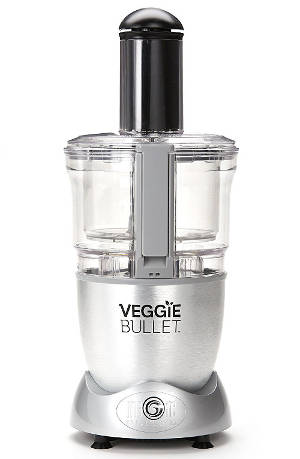 So you like the idea of stepping up your kitchen game by getting either a multi-functional food processor or the Veggie Bullet, a trendy 3-in-1 gadget that turns vegetables and other foods into spirals, shreds and slices? If so, read on! In this review, we explore how the Veggie Bullet compares with regular food processors to help you decide whether the Veggie Bullet or a food processor is better for your purposes.
Comparison of Key Functions
The Veggie Bullet spiralizes vegetables; a traditional food processor does not
One of the main advantages of getting the Veggie Bullet instead of a food processor is that you will be able to spiralize vegetables into noodle-like strips. Spiralized vegetables make a nutritious substitute for pasta, and as these mock noodles are made of fresh vegetables, they are perfect for all sorts of diets, including low carb, raw food, gluten-free, no-grain and paleo diets.
The Veggie Bullet shreds foods—but so do most food processors
The Veggie Bullet also has a blade for grating foods, so you can effortlessly grate carrots and cabbage for slaws, zucchini for muffins, potatoes for hash browns, and hard cheeses for casseroles and pasta dishes. But that alone is not a good reason to get the Veggie Bullet, especially if you already have a good food processor with a grating/shredding blade. What's more, if your main goal is to up your grating game by getting an electric appliance to do the job for you, you may be better off with a food processor: many of them come with two types of grating blades, one with big holes and another one with smaller holes, so if you will have more control over the size of the grated vegetable or cheese shreds.
Just like a good food processor, the Veggie Bullet turns foods into even slices
Yet another feature the Veggie Bullet has in common with a good food processor is that its slicing function allows the user to process foods like potatoes, onions, carrots, cucumber, fruits and even cooked meat into perfectly even slices. The slicing blade of the Veggie Bullet is integrated into a double-sided disc that features the shredding blade on the other side, which is definitely a plus if you don't have much storage space in your kitchen. That, however, is by no means unique to the Veggie Bullet; also many food processors come with a 2-in-1 shredding/slicing blade.
Unlike most food processors, the Veggie Bullet does not have a chopping blade
One of the main disadvantages of getting the Veggie Bullet instead of a food processor is that you won't be able to chop foods into very fine pieces. A food processor, by contrast, usually comes with a chopping blade, an S-shaped blade that sits at the bottom of the bowl and that can be used to make everything from smoothies and pureed soups to chopped vegetables and nut butters.
Other Things to Consider Before Buying
A food processor has a built-in container to catch shredded and sliced foods
When you use the Veggie Bullet as a grater/shredder or a slicer, it functions much the same way as a salad shooter: it shoots the sliced or grated food right out of its wide spout, directly into whatever you put under the spout. A food processor, by contrast, has a built-in container. Depending on the task at hand, this can be an advantage or a disadvantage. Note that when the Veggie Bullet is used as a spiralizer, it has a built-in container similar to what food processors have.
Some food processors are smaller than the Veggie Bullet, while others are bigger
When trying to figure out which one is better for you, the Veggie Bullet or a food processor, you might also want to consider the size of the machine. Compared with other electric spiralizers and salad shooters, the Veggie Bullet is quite big, and it also has a bigger footprint than the NutriBullet blender. Food processors, by contrast, come in many sizes, with the smallest models taking less space on the kitchen counter than the Veggie Bullet and the biggest models hogging more space.
Sponsored Links / Ads
Don't Miss This

Best Food Processors for Making Cauliflower Rice
Get here tips on how to pick a food processor that turns cauliflower into low-carb "rice".
More to Explore