Smart Kitchen Gadgets
Courgetti Maker: The Machine That Makes Vegetable "Spaghetti"
Courgetti makers that turns vegetables like courgettes into low-carb "spaghetti" are increasingly popular among health-conscious British consumers who rather make courgetti at home than buy it from supermarkets. Also known as spiralisers, these ingenious little machines come in two main types: manual and electric. Read on to learn how to pick the best courgetti maker for your kitchen.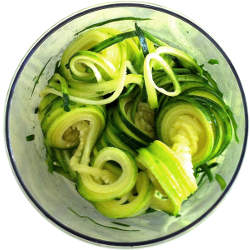 Courgetti makers have been gaining popularity in the UK, and rightfully so: these vegetable "pasta" makers, or spiralizers, turn ordinary vegetables like courgettes, sweet potatoes, butternut squash and carrots into spaghetti-like strands called courgetti (if you use courgettes), swoodles (if you use sweet potatoes) and boodles (if you use butternut squash). These strands can be used as a healthy, low-carb substitute for real pasta, but they are also wonderful in soups, salads, casseroles, frittatas, stir-fries and more.
And, while it's possible to buy courgetti, swoodles and boodles at supermarkets, making vegetable spaghetti at home with a spiraliser can save you a lot of money in the long run as store-bought vegetable spaghetti is much more expensive than buying fresh vegetables.
But when it comes to choosing a courgetti maker for home use, how do you know which one to buy? Below you'll find an overview of the most popular types of courgetti makers you can buy in the UK, as well as a handy comparison chart covering some of the most popular models.
Manual vs Electric Courgetti Makers
Here's an overview of the two main types of courgetti makers you can buy in the UK:
Electric courgetti makers. Electric courgetti makers, such as NutriBullet's Veggie Bullet or the Kenwood Spiralizer, eliminate the need for manual cranking, making spiralising quick and easy. All you have to do is prepare some courgettes, carrots or other spiralisable vegetables, making sure they are the right size and shape, and this motor-operated machine will do the hard work for you. The main disadvantage of getting an electric courgetti maker is that you will only be able to process vegetables that fit into the feeder tube on the machine.
Manual courgetti makers. A manual courgetti maker does not require electricity to function, which means you can use it anywhere. These types of courgetti makers generally fall into one of two sub-categories: hand-held spiralisers and hand-crank spiralisers. The hand-held models are the cheapest type of spiraliser you can buy in the UK, but they are not a good choice if you want to be able to process a lot of vegetables in one go. The hand-crank models, by contrast, are extremely efficient at spiralising courgettes and other vegetables, and many of them allow you to spiralize foods as fast as some of the best electric spiralizers.
Comparison of Popular Models
Once you know whether you want an electric or a manual courgetti maker, it's time to start weighing the pros and cons of different models to find the right machine for your kitchen. The following table provides an overview of some of the most popular courgetti makers designed for home use:
| Spiralizer | Type | What it makes | Review |
| --- | --- | --- | --- |
| Kenwood Spiralizer | Electric | Vegetable noodles/spaghetti and pappardelle-like ribbons | Read Review |
| Veggie Bullet Spiralizer | Electric | Vegetable noodles, slices, shreds | Read Review |
| KitchenAid Spiralizer Attachment | Electric spiralizer attachment | Vegetable noodles and slices of different sizes; peels | Read Review |
| Morphy Richards Spiralizer | Electric | Spaghetti- and fettuccine-like vegetable strips | Read Review |
| Paderno World Cuisine Spiralizer A49827-99 | Manual | Vegetable noodles and spiral ribbons | Read Review |
| Mueller Spiralizer | Manual | Vegetable noodles, slices and shreds; citrus fruit juices | Read Review |
BOOK YOU MAY LIKE
Spiralize Now
, London-based food stylist and recipe writer Denise Smart provides
80 delicious, healthy recipes for your spiralizer
. With recipes ranging from Courgetti with Sundried Tomato Pesto to Courgette-Crust Margherita Pizza to Spicy Potato Curls and Spiralized Root Vegetable Rosti, Denise does a great job showing how to discover the full potential of this versatile kitchen tool. To learn more about this inspiring cookbook,
click here
.