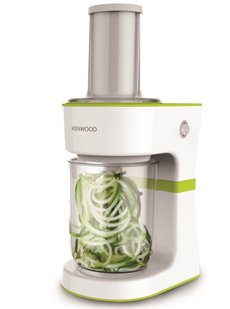 Kenwood Vegetable Spiralizer: Pros and Cons
Meet the Kenwood Spiralizer FGP20, a new-generation vegetable spiralizer that takes the hassle out of turning courgettes and other vegetables into spaghetti-like strands! Equipped with sharp blades and a motor, this electric spiral slicer turns vegetables into low-carb vegetable "pasta" within seconds. To learn more about this automatic spiralizer, and its pros and cons, keep reading.

Read Reviews on Amazon.co.uk
Pros
The Kenwood Vegetable Spiralizer helps you sneak more vegetables into your family's diet
Using the Kenwood Spiralizer to turn a courgette into linguine- or spaghetti-like strips (aka courgetti) is a great way to prepare this healthy, low-calorie squash. But courgettes are by no means the only the vegetable you can send through Kenwood's electric spiralizer—according to the instruction manual, also the following vegetables (and fruits) can be turned into linguine- or spaghetti-like strips, or vegetti, using this automatic spiralizer:
Apples
Broccoli stems
Butternut suqash
Celeriac
Daikon radishes/mooli
Jerusalem artichokes
Kohlrabi
Large carrots
Large parsnips
Pears
Potatoes
Sweet potatoes
Turnips/swedes
Uncooked beetroot
As courgetti and vegetti are made of fresh, unprocessed vegetables, they are perfect for all sorts of diets including vegan, low carb, gluten-free and paleo diets. These mock noodles are also a versatile ingredient and can be used in everything from soups to stir-fries to fresh salads.
It is one of the first electric spiralizers out there
Using a hand-crank spiralizer to prepare courgetti and other vegetables can be cumbersome. The Kenwood Spiralizer, along with the Morphy Richards Express Spiralizer, is one of the first courgetti makers sold in the UK and Ireland that come with a motor which eliminates the need for manual cranking and makes spiralising quick and easy. All you have to do is prepare the vegetables, and this automatic spiralizer will do the hard work for you.
Cons
Reviews of the Kenwood Spiralizer have been mixed
The Kenwood Vegetable Spiralizer FGP20 is one of the first electric spiralizers out there, and like many other kitchen gadgets that tick the "novelty" box, its design has not had enough time to evolve to the point where it would always yield good results, no matter how experienced or inexperienced you are when it comes to using spiralizers. If you would like to learn more about the problems people have had with the Kenwood Spiralizer, check out the reviews of this spiralizer on Amazon.co.uk. It is worth noting, though, that even the best automatic spiralizers available at the time of writing have been reported to have problems similar to what owners of the Kenwood FGP20 have experienced.
This spiralizer comes with only two interchangeable blades
If you want an electric spiralizer than can turn vegetables and fruits into a wide variety of different spiral shapes, then you should probably not get the Kenwood Spiralizer as it typically comes with only two interchangeable blades: one for making linguine- or spaghetti-like vegetable strips and another one for creating flat, pappardelle-like ribbons. Note: Whether you get the linguine or spaghetti blade depends on when and where in the UK (or Ireland) you buy this spiralizer—if you have a preference for one blade over the other, make sure you check with the seller before placing your order that you are really getting the blade you want.

Kenwood Spiralizer on Amazon.co.uk
Sponsored Links / Ads
Related Reviews
Book You May Like
Spiralize Now
, London-based food stylist and recipe writer Denise Smart provides
80 delicious, healthy recipes for your spiralizer
. With recipes ranging from Courgetti with Sundried Tomato Pesto to Courgette-Crust Margherita Pizza to Spicy Potato Curls and Spiralized Root Vegetable Rosti, Denise does a great job showing how to discover the full potential of this surprisingly versatile kitchen tool. To learn more about this inspiring cookbook or to buy a copy,
click here
.