KitchenAid KFC3516: Perfect for Making Nut Butter
Published: December 11, 2018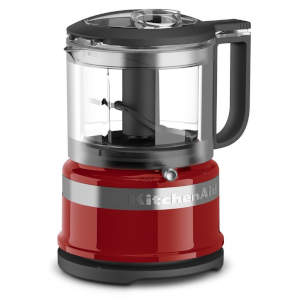 There are several great nut butter makers and nut butter attachments available in the US and across the pond the UK, but if you are a KitchenAid fan and love the idea of making your own nut butters, you should definitely check out the KitchenAid KFC3516 on Amazon. Here, we explain why. This article contains affiliate links.
5 Reasons to Use the KitchenAid KFC3516 to Make Nut Butter
1. It is powerful enough to handle most nuts. Thanks to its 240-watt motor and uniquely designed stainless steel blade, the KitchenAid KFC3516 mini food processor purees most nuts with ease. According to its user manual, you can add up to 3 cups of nuts as they are into the mixing container, and then use the 'Puree' setting to process the nuts.
2. Small bowl size keeps things moving. If you are looking for a nut butter maker for home use, big is not necessarily better. In fact, many of the best blenders that make nut butters feature relatively small mixing containers. The benefit of using a food processor or blender with a small container is that you don't have to use a huge amount of nuts to get things moving in the container. This also means you will probably end up with just the right amount of nut butter to meet your family's needs.
3. It doesn't take up a lot of space. The KitchenAid KFC3516 is compact and weighs less than 3 pounds, which means it's easy to move around, and it won't take much countertop or storage space in your kitchen. In fact, the KitchenAid KFC3516 is even smaller and lighter than some of the KitchenAid attachments designed to fit KitchenAid stand mixers!
4. It won't break the bank. While the full-size KitchenAid stand mixers can come with pretty hefty price tags, this mini food processor is very affordable. In fact, the KitchenAid KFC3516 is even cheaper than some KitchenAid stand mixer attachments and spare parts. You can check the current Amazon price for the KitchenAid KFC3516 here.
5. It has received tons of great reviews. The KitchenAid KFC3516 has received hundreds of reviews on Amazon, and most of them have been very positive. It has scored particularly well for its versatility as well as ease of assembly. Many people have bought it specifically for the purpose of making nut butters, and if you wonder what those people have to say about this compact KitchenAid gadget, check out these reviews on Amazon.
Where to Buy
The KitchenAid KFC3516 is available on Amazon in a variety of colors to match the color of your KitchenAid stand mixer, or your kitchen decor in general. It is also available in a handful of colors on Wayfair.
Other Nut Butter Making Machines and Attachments
The KitchenAid KFC3516 is certainly worth checking out if you are looking for a good nut butter maker, but there are also tons of other great options, such as the NutraMilk and the Vitamix blenders with low-profile containers. In case you haven't heard about it yet, the NutraMilk has been marketed as the first non-dairy milk and butter maker that uses raw, dry nuts and comes with a built-in filter (for taking the hassle out of nut milk making).
And, as far as Vitamix blenders go, these kitchen workhorses are known for their extra-powerful motors that make quick work of pureeing almost everything, including nuts. The Vitamix models with the low-profile containers are thought to be particularly well suited for those who plan on using their Vitamix blender as a nut butter maker on a regular basis because it is much easier to scrape out thick mixtures like almond butter from the wide-bottomed, low-profile containers than from the standard Vitamix containers.
If you have a Blendtec blender at home, you could also consider getting Blendtec's nut butter attachment, the Twister Jar. Compatible with all regular Blendtec blender models designed for home use, this attachment has been specifically designed to make nut butters and other thick pastes such as hummus and guacamole.