Quest for the Best Blender for Making Nut Butter
Not all blenders are well suited for making peanut butter, almond butter and other thick spreads. The best blenders for making nut butters at home are equipped with powerful motors, carefully engineered blades, and cleverly designed blending containers that make it easy not only to turn nuts and seeds into butter-like pastes but also to get the blends out of the container. In this article, we take a look at blenders that have features that make them ideal for blending nut butters at home. The blenders covered include:
1. Blendtec Blender with Twister Jar
Perfect design – and size – for making nut butters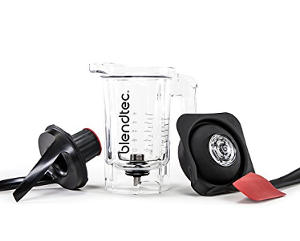 One of the main purposes of Blentec's Twister Jar is to serve as Blendtec's nut butter attachment. Sold separately, but compatible with all regular Blendtec blenders, the Twister Jar has been specifically designed to make nut butters such as almond butter and peanut butter, as well as other thick spreads such as hummus, guacamole and more. The jar has a cleverly engineered lid that scrapes the sides of the jar and pushes the nuts back to the blade while you are blending, thus keeping everything blending better and faster. What's more, you won't have to use huge amounts of nuts to get things moving in the jar because the standard Twister Jar is only 37 ounces, and the Mini Twister Jar is even smaller. Check out this review of the Blendtec Twister Jar to learn more about this powerful nut butter making blender attachment.
2. Vitamix Blenders with Low-Profile Containers
A top choice for making large batches of nut butters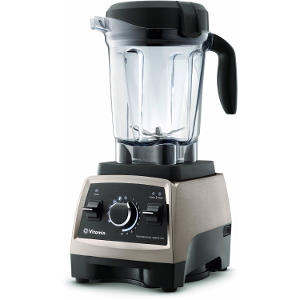 A Blendtec blender equipped with the separately sold Twister Jar is perfect for making smaller amounts of nut butters, but for those who want to make larger batches of nut butters, a high-speed Vitamix blender might be a better choice. While all Vitamix blenders can be used to make nut butters, some models are better suited for this purpose than others. If you get a model with the narrow, classic container designed for making smoothies, scraping thick mixtures like nut butters out of the container can be tedious. A Vitamix with a low-profile container, such as the Vitamix Professional 750 pictured here, may be a better choice for those who plan on making nut butters on a regular basis because the wide bottom of the low-profile container makes it easier to scrape out nut butters. To learn more about the blenders that Vitamix recommends for nut butter fans, click here.
3. Ninja Blender with Nut Butter Cycle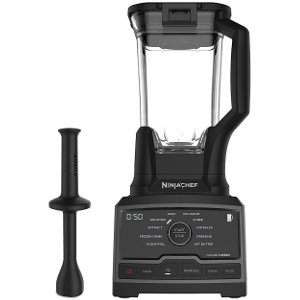 Makes nut butter at a push of a button
Ninja blenders are often marketed as a cheaper alternative to Vitamix and Blendtec blenders. In addition to carrying reasonable price tags, many Ninja models have some exciting features that take the guesswork out of creating blends with perfect textures. The Ninja Chef CT805 High-Speed Blender, for example, features a pre-programmed nut butter cycle which allows you to create a batch of homemade nut butter at a push of a button. And, just in case your nut butter is too chunky to your liking when the machine finishes the cycle, you can perfect it using the manual mode. Read our review of the Ninja Chef CT805 to learn more about the pros and cons of this affordable nut butter making blender.