Product Review
Ninja Blender with Spiralizer Attachment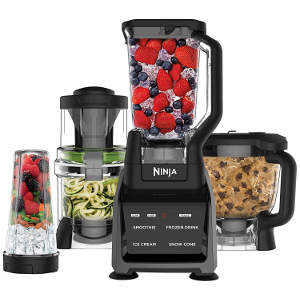 Are you in the market for a high-performance blender with a spiralizer attachment? A Ninja kitchen system with a spiralizer attachment might be just what you need. Available on Amazon since 2017, the Ninja AMZ012BL and the Ninja CT682SP Kitchen Systems come with two interchangeable blender containers: a 72-ounce (64-ounce max. liquid capacity) crushing pitcher and a 24-ounce high-speed blender cup. In addition, both come with a spiralizer attachment which turns vegetables like zucchini, sweet potatoes and carrots into imitation noodles. Popular among those following grain-free and Paleo diets, spiralized vegetables are a versatile ingredient that you can use as a healthy substitute for real pasta, or add to soups, salads and stir fries for a boost of flavor and nutrients.

Ninja CT682SP with a Spiralizer Attachment on Amazon
How to Pick the Best Ninja Blender with a Spiralizer Attachment
As both the Ninja AMZ012BL and the Ninja CT682SP (pictured above) are equipped with blender containers and spiralizer attachments, you may be wondering which one you should buy. And, the fact that the two models also have a lot of other features in common doesn't really help, either. That said, there are also several differences between the Ninja AMZ012BL and Ninja CT682SP. Here are some questions you might want to ask yourself if you don't know which you should get:
1. How many different spiralizer blades do you want? The spiralizer attachment of the Ninja AMZ012BL has three interchangeable spiralizer blades (spaghetti, fettuccine and ribbon blades), whereas the Ninja CT682SP only has two (spaghetti and fettuccine blades).
2. Do you want to have a wide selection of programs to choose from? The Ninja AMZ012BL comes with six pre-set programs, while the Ninja CT682SP comes with twelve pre-set programs. Each of these pre-set programs uses a unique set of pulsing, pausing and/or blending patterns to make it as easy as possible for you to create drinks and meals with perfect textures. You can learn more about them here.
3. Would you like to have a large food processor container? In addition to blender and spiralizer attachments, the two Ninja kitchen systems discussed in this review also come with a precision processor attachment: the Ninja AMZ012BL comes with a 4-cup precision processor bowl, whereas the Ninja CT682SP has an 8-cup precision processor bowl. The precision processor attachment comes in handy when you need to chop foods or make dough, but you can also use it in place of a blender when you're making purees, sauces or dips.
Buying a Blender with a Spiralizer Attachment
The perhaps easiest way to buy a multi-functional Ninja blender with a spiralizer attachment, or any other blender-spiralizer combo, is to order it online and have it shipped directly to your home. And, if you order your kitchen appliances through Amazon, there is a good chance you will get free shipping. Here are the current Amazon prices for the Ninja AMZ012BL and the Ninja CT682SP: