Veggie Bullet vs Hamilton Beach vs Oster: Spiralizer Comparison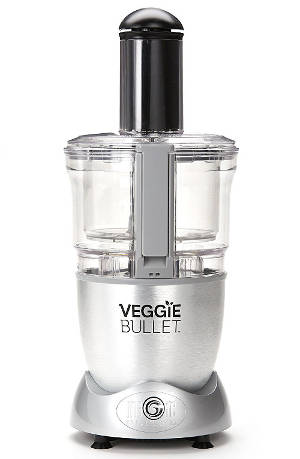 Do you want to up your spiralizing game by getting the Oster Spiralizer, the Hamilton Beach Spiral Slicer or NutriBullet's Veggie Bullet, but don't know which one to choose? Then, you are in the right place! Below, we compare and contrast these three popular electric spiralizers so you'll have a better idea of which model is best suited to your spiralizing needs. Note: This article contains affiliate links, which means that if you buy a product through those links, the author of this article may receive a small commission, without any change in price for you.
What They All Have in Common
PROS
They can help you incorporate more veggies into your diet. Turning boring vegetables like zucchini, carrots, sweet potatoes and cucumber into noodle-like strips using a spiralizer is a wonderful way to incorporate more healthy veggies into your diet. And, as these mock noodles are made of fresh, unprocessed vegetables, they are perfect for many different types of diets, including low carb, raw food, gluten-free, paleo diets.
They are operated by a motor, which eliminates the need for manual cranking. Spiralizing vegetables with a hand-crank spiralizer or slicing them with a mandolin can be cumbersome and time-consuming. Getting an electric spiralizer such as the Veggie Bullet, the Oster Spiralizer or the Hamilton Beach Spiral Slicer eliminates the need for manual cranking and makes spiralizing quick and easy.
CONS
You can only process foods that fit into the feeder. One downside that frequently pops up in reviews of electric spiralizers and that is also common to all three spiralizers covered in this review is the limited size of the feeder. So, whether you get the Veggie Bullet or one of the other spiralizers listed below, you will only be able to process foods that fit into the feeder.
These spiralizers don't work well on vegetables of all shapes and textures. Not only do you have to pay attention to the size of the vegetables that you want to spiralize, you also have to ensure the vegetables have the right shape and texture. Long, firm vegetables like zucchini, yellow squash and parsnips are the best candidates for spiralizing, but some less ideal foods can be made spiralizable by cutting them into the right shape.
Veggie Bullet
Sturdy and versatile, NutriBullet's Veggie Bullet is essentially a 3-in-1 gadget that spiralizes, slices and grates a variety of foods. It comes with two separate attachments: The first one, the spiralizer attachment, is used to turn vegetables and fruits into noodle-like strips that can be used as a low-carb substitute for spaghetti. The second one is the slicing and shredding attachment, a double-sided blade that turns foods either into thin slices or finely shredded strips. All of the pieces, except the power base, are dishwasher-safe.
Oster Spiralizer
Like the Veggie Bullet and the Hamilton Beach spiralizer, the electric Oster Spiralizer eliminates the need for manual cranking and makes spiralizing simple and quick. This affordable, no-frills spiralizer comes with two interchangeable, top-rack dishwasher-safe blades: one for turning vegetables and fruit into spaghetti-like strips and another one for making thicker, fettuccine-like spirals. If you don't need a spiralizer that can also stand in for an electric slicer or grater, then the Oster Spiralizer might be a good option for you.
Hamilton Beach Spiralizer
Like the Veggie Bullet, the motorized Hamilton Beach spiralizer has three settings, but only one setting for making noodle-like strips. Therefore, if you are looking for a spiralizer than can turn vegetables into "noodles" of various sizes and/or shapes, you may want to go for another spiralizer. However, if you are looking for a more versatile kitchen appliance that also grates and makes spiral ribbons, then the Hamilton Beach Spiralizer might be a good choice. This 3-in-1 kitchen gadget also has a couple of additional features that win it extra points, including the extra-long 5-feet cord and 2-speed control.
Side-by-Side Comparison
Veggie Bullet
Oster
Hamilton Beach
Amazon.com price
(in US$)
# of noodle settings
1
2
1
Other settings
Ribbons
no
no
yes
Slices
yes
no
no
Shreds
yes
no
yes
User reviews
Read reviews
Read reviews
Read reviews