Manual Spiralizers: Vertical vs Horizontal Hand-Crank Models
Whether you're looking for an alternative to grain-based noodles or simply want to get more healthy vegetables into your diet, manual spiralizers are one of the best tools for turning vegetables into noodle-like strands. As these vegetable spiralizers are operated by hand, they can be used anytime and anywhere, which is why many people still prefer a manual spiralizer over an electric model, although there are plenty of good electric spiralizers out there.
What's more, the best hand-crank spiralizers you can buy today in North America and the UK are extremely efficient, and many of them allow you to spiralize vegetables and fruits just as fast as some of the best electric spiralizers.
Hand-crank spiralizers generally fall into one of two categories: those that position the vegetable (or fruit) horizontally and those that position it vertically. In this article, we take a look how horizontal spiralizers compare to their vertical counterparts and explore the pros and cons of each type to help you decide which type of manual spiralizer is best for you.
Horizontal Spiralizers: Pros and Cons
Horizontal spiralizers are the oldest type of manual, hand-crank spiralizer. As their name suggests, they hold vegetables in place horizontally as you turn the handle to churn the vegetables through the cutting blades. One of the advantages of getting this type of manual spiralizer, instead of one of the newer vertical models, is that as you crank the handle, the spiralized vegetables that come out can pile up on a cutting board or countertop without space limitations. On the downside, the risk of a vegetable falling out of position is usually higher with a horizontal spiralizer than a vertical spiralizer. Some spiralizer manufacturers, such as the German company Lurch, have attempted to resolve this problem by designing horizontal spiralizers that use skewers to help keep the fruit or vegetable from falling from the grippers when the slicer/ribbon blade is in use. You can learn more about Lurch's skewer-equpped spiralizer the Lurch Super Spiralizer here if you live in the US, here if you live in the UK, or here if you live in Canada.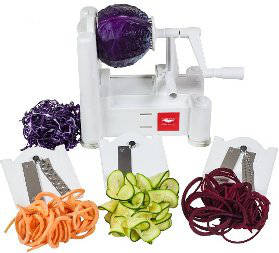 A best-selling horizontal spiralizer
Equipped with three interchangeable blades, the Paderno World Cuisine Spiralizer A49827-99 turns zucchini into "zoodles" and other vegetables into "vegetti" or spiral ribbons in seconds. If you think a hand-operated horizontal spiralizer is the best option for you and want a simple model without bells and whistles, then the Paderno World Cuisine Spiralizer might be a good choice. It has been one of the best-selling manual spiralizers on Amazon, and there are literally thousands of reviews of this spiralizer on Amazon.com, including thousands of 5-star reviews. You can use the following links to check the current Amazon price for this model, or to simply learn more about this popular horizontal hand-crank spiralizer that has gained a whole lot of fans, particularly in the United States and Canada:

Click here

Click here

Click here
Vertical Spiralizers: Pros and Cons
Many people think vertical spiralizers are better than their horizontal counterparts because when the vegetable is positioned vertically, the gravity is on your side. This means that compared with your average horizontal spiralizer, the risk of the vegetable falling out of position is generally lower with a vertical spiralizer, plus won't have to apply as much pressure as with a horizontal hand-crank model. One the downside, vertical models usually have less room below the blade to catch the spiralized vegetables, and the models that come with containers to collect the zoodles and vegetti require frequent empting when you are processing a large batch of food.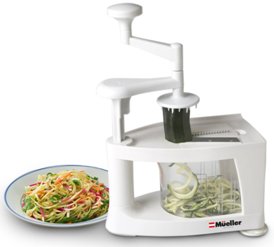 A popular vertical spiralizer:
If you are convinced a vertical spiralizer is the best type of manual spiralizer and you are looking for a popular model that has been tested time and time again, you might want to head to Amazon to check out the Mueller Spiralizer, pictured on the right, or its British/Canadian counterpart, the Cuisique Spiralizer. This best-selling model is made from BPA-free reinforced ABS plastic and comes with ultra-sharp stainless steel blades. But perhaps the best thing about this model is that it is not only a spiralizer; it is also a grater, mandoline and citrus fruit juicer. To learn more, or to buy one of these multi-functional manual spiralizers through Amazon's global site, or its local stores in the UK or Canada, click on the following links.

Click here

Click here

Click here
You May Also Like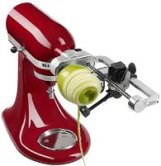 Do you love the idea of having an automatic spiralizer but don't have the space in your kitchen to accommodate a stand-alone spiralizer? The good news is that if you already have a KitchenAid stand mixer, all you need to do is get a small spiralizer attachment, and
your KitchenAid will turn into a multi-functional electric spiralizer
! To learn more about this neat tool,
click here
.