Buying the KitchenAid Spiralizer Attachment: What You'll Get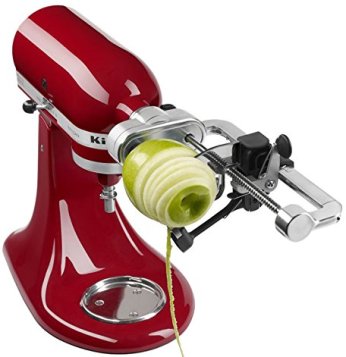 Do you love the idea of having one of those trendy electric vegetable spiralizers but don't have the space in your kitchen to accommodate yet another countertop kitchen appliance? The good news is that if you already have a KitchenAid stand mixer at home, all you need to do is get a small spiralizer attachment, and your KitchenAid will turn into a multi-functional electric spiralizer that takes the hassle out of turning zucchini and other vegetables into noodle-like strands! And best of all, the KitchenAid spiralizer attachments KSM1APC and KSM2APC, which attach to the power hub on your stand mixer, are compatible with all stand mixer models.
On the downside, these spiralizer attachments are not exactly cheap accessories, but then again, they have received tons of good reviews, which is not the case with all electric spiralizers (you can read reviews of these attachments on Amazon here (or here if you live in Canada).
The purpose of this article is to provide information about the different blades you will get if you buy a KitchenAid spiralizer attachment, so you can decide whether this tool has the right functions to suit your needs. Please note that when using any of the blades, you should cut the ends off the vegetable or fruit you are planning to spiralize, peel, slice or core to ensure it fits properly on the attachment. What's more, the vegetable or fruit should be 1.5 to 3.75 inches in diameter, and not longer than 5.5 inches.
KSM1APC vs KSM2APC: Comparison of the Blades
At the time of writing this review, there are two versions of the KitchenAid spiralizer attachment: the standard KSM1APC model, which comes with 5 blades, and the KitchenAid Spiralizer Plus Attachment, or KSM2APC, which comes with 7 blades. Here's an overview of the blades:
KSM1APC
KSM2APC
Peeler blade
X
X
Fine spiralizing blade
X
X
Extra fine spiralizing blade*
X
Medium spiralizing blade
X
X
Slicer, large core
X
X
Slicer, small core
X
X
Thin slicer, small core*
X
Amazon price
Click here
Click here
Click here
Click here
* If you get the 5-blade model KSM1APC now, you can still later on buy the extra-fine spiralizing blade and the thin slicer (collectively known as the KSMAPC1AP attachment) to complete your collection of KitchenAid spiralizer blades. The KSMAPC1AP blade-set is available on Amazon here (or here if you live in Canada).
Details on the Different Blades
Peeler attachment. Perfect for peeling fairly wide vegetables and fruits, this attachment takes the hassle out of peeling foods like potatoes and apples. To install the peeler, simply slide it into the bottom of the blade carrier on your KitchenAid stand mixer until it clicks into place.
Fine spiralizing blade. This blade has been designed to turn vegetables into extra-thin, angel-hair "noodles", and the user manual for the KSM1APC suggests you use it to process foods like zucchini, sweet potatoes, and beets. This blade can be used in combination with the peeler blade.
Extra fine spiralizing blade. If you think the angel-hair vegetable noodles created with the fine spiralizing blade won't be fine enough for you, then you should consider getting the consider getting the 7-blade KSM2APC spiralizer attachment which includes an extra fine spiralizing blade.
Medium spiralizing blade. Suitable for use with or without the peeler attachment, this is the ideal blade for turning fresh zucchini into regular zucchini noodles, aka zoodles. You can of course also use it for yellow squash which, because of its yellow color, turns into more authentic-looking noodles when spiralized. Other suggested foods include sweet potato and potato.
Slicer, large core. Unlike the spiralizing blades which create long vegetable strips that resemble noodles or spaghetti, the slicer blades that come with your KSM1APC attachment create ribbon-style spiral slices. The large core slicer is designed for fruits with large cores such as such as apples and pears, and it can be used with or without the peeler attachment.
Slicer, small core. Ideal for slicing vegetables that have a small core or no core at all (think zucchini or beets, for example), this spiral slicer creates only a small hole in the middle of the sliced vegetable or fruit. Like the large core slicer, this one can be used in combination with the peeler attachment.
Thin slicer, small core. If you are looking to create very thin curly slices, then this blade is probably the right choice. It is important to note that this blade is included if you get the KSM2APC model but not if you get the KSM1APC model.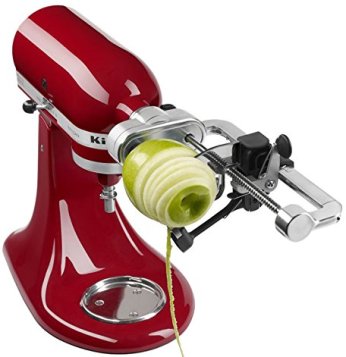 Buying the KSM1APC or KSM2APC on Amazon
One of the easiest ways to get the KitchenAid Spiralizer Attachment is to order it online, and have it shipped directly to your home. To view the current Amazon price for the KSM1APC or KSM2APC and to check whether your purchase will be eligible for free shipping, click on the link below. The link provided is an affiliate link, which means that by purchasing a product through the link, the author of this article may receive a small commission (of course without any extra cost on your part).