Big Boss Swirlio – To Get or Not to Get?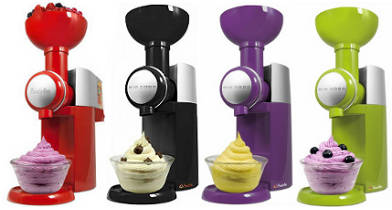 Ice cream is right there on top of the list of the most popular summer treats in the US and Canada, but it's not exactly the healthiest dessert out there as it is typically loaded with sugar, saturated fat and unnatural additives. This is where Big Boss' Swirlio comes in! This ingenious machine makes guilt-free frozen fruit desserts by mashing frozen bananas and other frozen fruits into smooth, 100% fruit-based soft serve. All you have to do is feed your Swirlio some ordinary frozen fruit, and in a matter of seconds, this smart frozen fruit dessert maker starts extruding fruit-based soft serve directy into a serving bowl.
But Big Boss' Swirlio is by no means the only frozen fruit dessert maker out there, and it faces tough competition from brands like Yonanas and Dessert Bullet / NutriBullet. To help you evaluate whether Big Boss' Swirlio is the best frozen fruit dessert maker for you and your family, here's an overview of some of the pros and cons of getting this as-seen-on-TV gadget.
Review of Big Boss Swirlio Frozen Fruit Dessert Maker
PROS
It's easy to use
Making healthy frozen fruit desserts with a Swirlio is easy if you follow these steps: First, peel and dice bananas and other fruits of your choice, and freeze the fruit pieces until frozen solid (over-ripe bananas are particularly good for this purpose). Then, remove the pieces from the freezer and let them thaw for about 5 to 10 minutes. Meanwhile, place your Swirlio on the countertop, and put a serving bowl beneath the dispenser. Then, all there's left to do is turn on the machine and insert the fruit pieces, and voila, your healthy frozen fruit dessert will be ready to serve within seconds!
It has several advantages over a blender
Foodies have been making one-ingredient banana soft serve and other 100% fruit-based frozen desserts in blenders for years, but not all blenders are capable of processing large amounts of frozen fruit. And, even if they are, they have a couple of drawbacks: First, you might have to add some liquid to get things moving in a blender when processing pieces of frozen fruit, which in turn means you might end up with a frozen dessert that bears more resemblance to a smoothie than soft serve ice cream. Second, scooping thick fruit puree out of a blender may be difficult because of the shape of the machine – Swirlio, by contrast, churns out delicious soft serve directly into the serving bowl, plus it will look just like the real thing! Finally, it can take blenders several minutes to turn frozen fruit into smooth puree; Swirlio, by contrast, turns frozen fruit into healthy desserts in seconds.
There are tons of recipes and flavor combos to try
There are tons of recipes and ideas for healthy frozen fruit desserts that can be made with Swirlio. If you've seen the TV spot for Swirlio, you may already know some of them, but for those haven't seen Swirlio on TV and for those who simply need more ideas, here are some great flavor combinations to try: Banana + Cherries; Banana + Strawberries; Banana + Raspberries; Banana + Extra Dark Chocolate; Banana + Cacao Powder; Banana + Peach + Raspberries; Banana + Apple + Cinnamon; Banana + Grapefruit + Green Grapes; Blueberries + Raspberries + Strawberries; Blueberries + Strawberries + Blackberries; Kiwifruit + Green Grapes.
CONS
It's not the most versatile kitchen gadget out there
One negative thing that often pops up in reviews that discuss the pros and cons of the Big Boss Swirlio Frozen Fruit Dessert Maker is that its uses in the kitchen are rather limited. Therefore, you'll want to think carefully whether it's worth getting Swirlio if you only plan to use it occasionally and/or if you don't have much countertop/storage space in your kitchen. That said, contrary to widespread belief, Swirlio is not a true one-trick pony as it can also be used to make sauces and dips like guacamole, bean dips and tzatziki.
Some people have complained about its durability
Although Big Boss' Swirlio has recieved tons of positive reviews on Amazon, it has also received a bunch of negative reviews, especially with regard to durability (you can read these and other reviews of Swirlio here). To lower your chances of running into trouble, always allow pieces of frozen fruit to thaw a little bit before sending them through the machine. And, don't forget to carefully read the usage instructions provided by the manufacturer!
Where to Get Big Boss Swirlio (if you live in the US or Canada)?
So you think the Big Boss Swirlio Frozen Fruit Dessert Maker would be a good addition to your arsenal of healthy kitchen gadgets? If you live in the US or Canada, you can buy Swirlio conveniently through the online retailer Amazon using the following affiliate links: