Dessert Bullet vs Yonanas vs Big Boss' Swirlio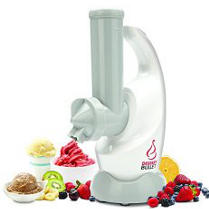 Automatic ice cream makers are a great option for those who like traditional ice cream but not the fillers and preservatives that are usually found in store-bought ice cream. However, if you prefer dairy-free frozen treats, you may be better off getting one of the dedicated frozen fruit desert makers, such as the Dessert Bullet, Yonanas or Big Boss' Swirlio. Below, we explain why you might want to consider getting one of these trendy gadgets instead of an ice cream maker, plus provide tips on how to pick the best frozen fruit dessert maker. At the end of the article, you'll also find a handy comparison chart which shows some of the key differences between the Yonanas Maker, Dessert Bullet and Swirlio.
Ice Cream Maker vs Yonanas (and Other Similar Frozen Treat Makers
Our taste buds love ice cream, but unfortunately this creamy treat is usually packed with calories, fat, sugar and additives. Getting an automatic ice cream maker, such as the Cuisinart ICE-100, can solve part of this problem: by making your own ice cream you will be in control of what goes into your dessert, and with a good cookbook featuring healthy ice cream recipes, you can easily create all-natural, dairy-free ice cream with a reduced fat and sugar content. If you're interested in learning how to make healthier ice cream and you already have an ice cream maker at home, be sure to check out The Vegan Scoop, an exciting book that delivers 150 dairy-free recipes for frozen desserts that taste just like real ice cream! Created by the founder of the first all-vegan ice cream parlor in Boston, this book is a real treasure trove of low-calorie dessert recipes for vegans, but also for other people who want to learn how to make dairy-free mock ice cream without compromising flavor or texture.
If you don't have an ice cream maker yet but are planning to get one, you might want to re-think your plan. These frozen treat makers, especially those fully automatic ice cream machines, are not exactly cheap, plus some of them can be tricky to clean. The solution? Get one of the dedicated frozen fruit dessert makers, such as the Dessert Bullet, Yonanas, or Big Boss' Swirlio. These ingenious gadgets turn frozen bananas and other frozen fruits into healthy, low-calorie mock ice cream in seconds, plus these compact gadgets won't break the bank, either. What's more, the Dessert Bullet, Yonanas and Swirlio allow you to make frozen treats that only contain fruit, which means your desserts will be loaded with vitamins, antioxidants and other health-promoting compounds.
Quest for the Best Frozen Fruit Dessert Maker
So if you decide getting a dedicated frozen fruit dessert maker, such as the Yonanas Maker or the Dessert Bullet, is the right way to go, how do you decide which model is the best? The good news is that all of the popular models are pretty similar in terms of functions and features, so there aren't many things to compare. As shown in the Comparison Chart below, one of the key differences between the models is the wattage: the Dessert Bullet, for example, uses 350 Watts, while the Yonanas Maker uses 200 Watts. In addition to comparing the power of the motor, you might also want to read some of the user reviews on Amazon. Reading and comparing user reviews of different models can provide you with first-hand information about the pros and cons of different models, and ultimately help you find the best frozen fruit dessert maker for you and your family.
Feature-by-Feature Comparison Chart
Here's a side-by-side comparison chart of popular frozen fruit dessert makers to give you an idea of how they stack up against each other in terms of price, rating and key features:
Dessert Bullet
Yonanas Classic
Swirlio 9249
Price on Amazon.com
(in US$)
Power
350 Watts
200 Watts
130 Watts
Chute and plunger dishwasher-safe
Yes
Yes
Yes
Approximate dimensions
14"H x 8"W x 9"D
14"H x 8"W x 6"D
14"W x 5"D x 10"H
Material
Plastic
Plastic
Plastic
BPA-free
Yes
Yes
N/A
Read user reviews or buy now
Click here
Click here
Click here
Click here
Click here
Click here
Note for UK residents: You you are looking to buy a frozen fruit dessert maker maker in the UK, go to Amazon.co.uk.