Lello's Commercial-Quality Ice Cream Maker for Restaurants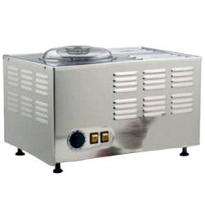 If you are a professional chef, you may already be familiar with the Lello Musso Pola 5030 Ice Cream and Dessert Maker, a commercial-quality ice cream machine that churns out ice cream and other frozen desserts in a matter of minutes. This fully automatic, professional-grade ice cream maker creates creamy gelato from scratch, batch after batch. There is no need to pre-freeze the mixing bowl for hours ahead as the Lello Musso Pola is equipped with a built-in compressor which automatically freezes the contents of the mixing bowl during the cycle which typically lasts around 20 to 30 minutes. Made in Italy, this medium-duty ice cream can be purchased online here (US customers) or here (Canadian customers). Note, though, that like other premium ice cream machines of this caliber, the Lello Musso Pola 5030 comes with a pretty hefty price tag, so make sure your restaurant or ice cream parlor's finances are sorted before you go ahead and buy this commercial-grade machine.
Perfect for Medium-Duty Use
Many of the self-refrigerating ice cream makers aimed at home cooks can produce at least one quart of homemade in about 40 to 60 minutes. The Lello Musso Lussino, the non-commercial grade ice cream maker by Lello, for example, can produce two 1.5-quart batches of ice cream in about 60 minutes. That is certainly a very good production rate for a non-professional-quality ice cream machine, but if you are a chef or an owner of a small restaurant, you will probably need something much more efficient. This is where the Lello Musso Pola 5030 Dessert Maker comes in. With its powerful motor and 2-quart bowl, this heavy duty ice cream maker can make up to 6 quarts of gelato or frozen yogurt in an hour.
Elegant Stainless Steel Construction
Made in Italy, this sturdy professional-quality ice cream maker also gets points for its stainless steel design. Not only does stainless steel housing look elegant, it also makes the Lello Musso Pola 5030 ice cream and sorbet maker sturdy and durable. Also the mixing bowl is made of stainless steel, which means you won't have to worry about plastic tainting your frozen desserts. What's more, the mixing bowl has been integrated into the machine to minimize the presence of seams and crevices that could collect bacteria and dirt – a neat feature if you run a restaurant where sanitation is of utmost importance.
Where to Buy
So you think this might the best commercial-quality ice cream and sorbet maker for your small restaurant or ice cream parlor? The easiest way to buy the Lello Musso Pola 5030 Dessert Maker is to order it online and have this somewhat heavy contraption shipped directly to your restaurant (or to your home). You can buy it conveniently online through Amazon.com here (

US customers), or through Amazon.ca here (

Canadian shoppers).