Lello Ice Cream Maker with Stainless Steel Bowl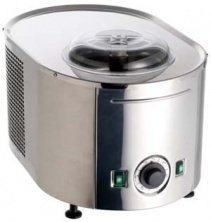 Love homemade, Italian-style ice cream? The Lello Lusso Mussino 4080 ice cream maker produces frozen desserts from scratch in less than an hour! Just add your favorite ice cream or sorbet ingredients to the built-in mixing bowl, and this high-end gelato maker with a built-in freezer will take care of the rest.
No Pre-Freezing Required = No Need to Plan Ahead
It is not surprising that the Musso Lussino has received tons of great reviews. Unlike many of the cheaper models which require you to pre-freeze the mixing bowl for up to 24 hours before making a batch of ice cream, this fully automatic, self-freezing ice cream and sorbet maker comes with a powerful compressor which freezes the contents of the mixing bowl without you ever having to remove the bowl from the machine. This means you no longer have to plan hours ahead; instead, you can just add the ingredients to the bowl and press two buttons, and you will have luscious Italian-style gelato in less than an hour. And, after churning out the first batch, this ingenious ice cream maker can immediately begin making another batch.
Superior Performance
If you have already read the reviews of the Musso Lussino on Amazon, you know that this all stainless steel ice cream maker has scored top marks for performance, and many people who have bought the Lello 4080 Musso Lussino feel this high-quality ice cream maker is worth its relatively high price. With its powerful, yet quiet motor and rapid operation, the Musso Lussino may well be one the best ice cream makers designed for home use and worth the investment if you are planning on making a lot of ice cream and other frozen desserts. It is not, however, fast enough to be commercial-grade. If you are looking for a real professional ice cream maker, check out Lello's professional-quality ice cream maker which has been designed for commercial use in restaurants etc.
Solid Stainless Steel Construction (BPA-Free)
Unlike most other fully-automatic, self-refrigerating ice cream makers out there, the Lello Musso Lussino 4080 is all stainless steel, except for the lid and the buttons, so it is extremely durable. This means that also the mixing paddle and bowl are all stainless steel, so you won't have to worry about plasticky odors tainting your dessert. And, as stainless steel is naturally free of Bisphenol-A, better known as BPA, you won't have to worry about your ice cream coming into contact with this controversial chemical, either.
Top Reviews from Amazon Customers
At the writing of this article (May 2015), the Lello 4080 Musso Lussino is one of the best rated ice cream makers on Amazon, despite its pretty hefty price tag, suggesting that many people feel this ice cream machine is of exceptionally high quality. Made in Italy, the Musso Lussino has received top marks for its sturdy stainless steel construction, rapid operation, quiet motor and ease of use. It also has a practical see-through lid which you can lift off to have full access to the ingredients moving inside, which makes adding things like nuts very easy. Plus, it is fun to able to be able watch the liquid transforming into ice cream! To learn more about what people are saying about the Musso Lussino, use the following links:
Any Shortcomings?
The mixing bowl is integrated into the top of the machine which means there is no seam to collect bacteria and you won't have to worry about ice cream dripping down onto the motor. However, some Amazon reviewers see the fact that the bowl cannot be removed as a shortcoming as you will have to clean it over the machine. To make the clean-up easier, place the machine on a location where you can easily reach the bowl, and use a warm sponge to defrost any ice cream residue. You will want to have a permanent space for this machine on the countertop since it is rather heavy (this is another minus that frequently pops up in the user reviews).
Looking for an ice cream maker with a removable stainless steel bowl?
If the built-in bowl of the Lello Musso Lussino is a deal breaker for you, check out
DeLonghi's GM6000 Gelato Maker
which comes with a
removable
all stainless steel bowl.
Don't Miss This

Quest for the Best All-in-One Juicer-Blender Combo
Looking to replace your juicer and blender with a single machine? Check out these tips.
Cool Products
Book You May Like

Who says ice cream has to be unhealthy? In The Vegan Scoop, the founder of Boston's first all-vegan ice cream parlor shares 150 dairy-free, low-calorie recipes for frozen desserts that taste just like real ice cream! Covering everything from familiar American flavors like Peanut Butter & Banana to Caribbean flavor combos like Orange & Passionfruit, this inspiring book is packed with irresistible recipes you'll want to try, whether you are vegan, lactose-intolerant, or just trying to eat healthier. To take a peek inside the book, or to order your copy today, visit Amazon.com, Amazon.co.uk or Amazon.ca.