Smart Kichen Tools
Multi-Blade Herb Shears with Cleaning Tool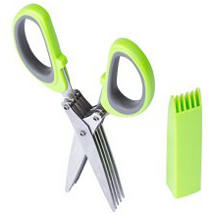 Dynamic Cook's herb scissors, available through Amazon.com
Stocking your kitchen with smart tools can be a lifesaver if you lead a busy lifestyle. But that doesn't mean the tools have to be big to have a big impact – in fact, in many cases, the smallest kitchen tools are the mightiest. Take the multi-blade kitchen and herb shears, for example. Typically equipped with 10 blades (5 top and 5 bottom), these smart scissors cut your favorite herbs in a fraction of the time it would take you to chop the herbs using traditional kitchen shears.
If you live in a major North American city like Los Angeles, New York or Toronto, chances are you have already seen herb scissors with multiple blades in the stores, and you know where to get a pair if you don't already have one. Of course, these pre-time reducing scissors can also be purchased in many other countries, including the UK, as well as online.
10-Blade Scissors Cut Meal Prep Time
Chopping fresh herbs has never been easier – and cleaner! With quintuple herb scissors with 5 top blades and 5 bottom blades you will cut your favorite fresh herbs five times faster than you would with conventional kitchen shears. To minimize the time you spend preparing your meal, use your multi-blade scissors to cut the herbs directly into a sauce pan or over a plate for garnishing. Snipping herbs directly into a pan, or over a serving dish, is also a great way to avoid nnecessary mess and to reduce the time you spend cleaning your kitchen after cooking.
Tip: Get a Pair with a Cleaning Tool
No question about it, scissors with multiple blades can cut the time you spend preparing your meals and cleaning kitchen surfaces, but what about the time needed to clean the tool itself? Unfortunately, many cheap multi-blade herb scissors you find in the stores in North America and the UK don't come with a cleaning tool. This means that you might have to use a blunt knife, or a similar tool, to remove chopped herbs that get stuck in between the blades. The good news that there are also models that come with cleaning combs specifically designed to clean the blades of leftover herb bits. If you live in the US, Canada or the UK, you can buy a pair of multi-blade herb scissors with a cleaning comb through the following affiliate links:
Uses Beyond Kitchen
Kitchen shears with several parallel blades are perfect for chopping delicate fresh herbs like chives, parsley and basil, but they can also help you with your art and craft projects, as most of them cut paper with ease. Those who don't have a paper shredder at home can also use these multi-purpose scissors as a manual paper shredder for financial documents and confidential letters. It will only take seconds and you no longer need to worry about your private information being revealed. And, when you are done shredding, you can just throw your "mini-shredder" into a drawer. How convenient is that?!
Sponsored Links / Ads
Don't Miss This

Indoor Herb Gardening Systems with Artificial Lights
Modern grow light systems are efficient and increasingly affordable.
More Cool Products