Smart Kitchen Tools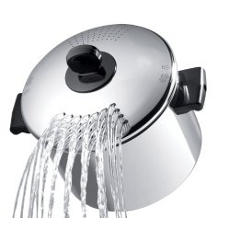 Stainless Steel Pot with a Locking Drainer Lid
Meet Farberware's straining stock pot! Made of sturdy stainless steel, this smart stock pot comes with a draining lid that allows you to strain vegetables, pasta and other foods directly from the pan, eliminating the need for a bulky colander or sieve. And, to ensure your dinner won't accidentally pour into the sink, the lid comes with a locking mechanism to keep in place during the draining process.
Smart Lid with Large and Small Drainage Holes
Thanks to the drainage holes in its lid, this stainless steel pasta and stock pot allows you to drain excess water from your foods with minimal effort. All you have to do is twist the lid in place to lock it securely and tilt the pan over your kitchen sink, and excess liquid will pour right out through the holes. To accommodate a variety of foods, the lid comes with two sets of drainage holes – smaller holes on one side and larger on the other.
Aside from saving valuable kitchen space by eliminating the need for separate colanders, this 2-in-1 stock pot and strainer is also more hygienic than traditional colanders which you would typically place in the sink. When you use a traditional colander, water may back up or not drain fast enough, which in turn means your pasta or veggies may get contaminated by bacteria that live in the sink. When using Farberware's stainless steel pot with a drainer lid, the food will stay in the pot so won't be any sink-to-food contact.
Locking Mechanism Keeps the Lid in Place
Farberware's straining pot has one major advantage over some cheaper stock pots and sauce pans with draining lids: it comes with a locking mechanism which allows you to lock the lid in place before you pour out the water. Thanks to this nifty little feature, you won't have to worry about food accidentally falling into the sink and you can simply focus on holding the pot, not a pot and lid.
Sturdy Stainless Steel Construction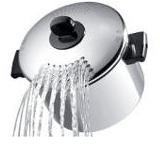 Like many other high-quality stock pots and sauce pans, Farberware's straining pot has an aluminum core to facilitate heat distribution during cooking. However, the rest of the pot, with the exception of the handles and the knob on the lid, is made of sturdy stainless steel. Not only is stainless steel durable, it is also free of controversial polymers such as polytetrafluoroethylene (PTFE) which is found in many non-stick pots and pans. What's more, stainless steel is dishwasher-safe, so once you're done cooking and straining your food, you can simply pop the pot and lid into the dishwasher for easy clean up!

Buy this stockpot on Amazon
Sponsored Links / Ads
Don't Miss This

10 Cookbooks Packed with Healthy Kale-Focused Recipes
Need ideas on how to incorporate this superfood into your diet? Check out these books.
More Cool Products