Popsicle Molds Can Also Be Plastic-Free (Who Would've Guessed!)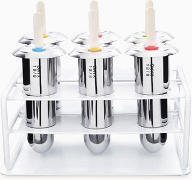 Using popsicle molds to make own thirst-quenching ice pops is fun and easy, and if you stick to healthy, natural ingredients, homemade popsicles can be quite healthy, too. Right? Well, turns out it's not only about the ingredients you use to make popsicles – the material your popsicle molds are made of may affect you and your child's health as well. If you're looking for guaranteed non-toxic, non-plastic popsicle molds that are free of BPA and all the other nasties that may leach from plastic products, buying an ice pop mold set made of stainless steel may be the way to go.
Looking beyond BPA
Bisphenol A, or BPA for short, is a common chemical found in plastic products, including popsicle molds. Its chemical structure is so similar to estrogen that it may affect human hormone systems. While the U.S. agencies continue to allow the use of BPA in plastic products (with the exception of baby bottles and sippy cups), a growing number of laboratory studies have linked exposure to BPA to wide-ranging health concerns, including impaired brain development, polycystic ovary syndrome, infertility, breast cancer, prostate cancer, thyroid problems, diabetes, cardiovascular disease, attention deficit disorder, learning disabilities, and asthma.
As a result of the mounting evidence, consumers have began to demand plastic products that are free of this toxic chemical, and companies have responded by rolling out BPA-free plastic products, from PBA-free lunch boxes to BPA-free popsicle molds.
However, latest research shows that avoiding products that contain BPA may not be enough to prevent you and your child from exposure to estrogen-mimicking hormones. A startling study published in the journal Environmental Health Perspectives in 2011 found that a BPA-free label on a plastic product does not guarantee that the product is 100% non-toxic. The researchers conducted tests on more than 20 baby bottles and more than 450 plastic food and beverage-packages – many of which were BPA-free – and found that nearly all of the tested products leached chemicals that can disrupt hormonal balance.
Non-plastic popsicle molds hit the market
So, is there an alternative to plastic popsicle molds for those who want to be on the safe side and avoid plastic products altogether? Onyx Containers has designed an elegant set of non-plastic popsicle molds made of 18/8 stainless steel. The set is a bit pricey, but then again, it is one of those extra-durable items you can pass down to your children one day! Click here to find it on Amazon.com.