What to Do With Broccoli Stems: 10 Ideas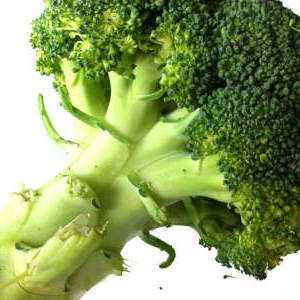 Many people just throw away the broccoli stems that are left over after the florets are removed and used for a variety of dishes. That's a shame because broccoli stems are perfectly edible, both raw and cooked, and there's a lot you can do with them. Just keep in mind that the outer layer of the broccoli stem can be quite hard, and you'll probably want to peel it off before cooking or eating the stem, unless the recipe specifically calls for unpeeled broccoli stems.
Now, if you want to start using those leftover stems, here are 10 great ideas on what to do with broccoli stems:
1. Use Them for Vegetable Broth
Save leftover broccoli stems in a large Zip-lock bag in the freezer, along with other vegetable scraps such as ends of carrots, kale stalks, etc. When the bag is full, use the vegetable odds and ends to make a big batch of broth. The best thing about using broccoli stems for broth is that you can make use of the entire stem, including the tough outer layer.
2. Make Pureed Soup
Making a pureed soup is a wonderful way to use up a lot of broccoli stems. To make a broccoli soup using leftover broccoli stems, simply chop up the stems, sauté them in olive oil along with other chopped vegetables such as onions, add broth, and let the soup cook until the stalks are just tender. Then puree with a hand blender, and season with salt and pepper. You can also add cream if you want to make cream of broccoli soup.
3. Steam and Mash Them
Steaming broccoli stems and turning them into vegetable mash is another great way to use up a lot of leftover broccoli stems. To make this healthy side dish, simply steam some peeled broccoli stems until tender, then purée using a hand blender, and finally season with salt. And, in case you get bored of this simple recipe, try puréeing other cooked vegetables like sweet potatoes, kale or spinach together with the broccoli.
4. Add Them to Smoothies
Got a small broccoli stem and don't know what to do with it? Throw it into a blender, along with fruits like mango and banana, and hit the blend button. In a matter of minutes, you'll be rewarded with a healthy green smoothie that's packed with flavor and vitamins. And, because you are using raw broccoli rather than cooked, your smoothie will be brimming with myrosinase, an enzyme that is thought to unlock the anti-cancer potential of broccoli.
5. Spiralize Them
With a vegetable spiralizer such as the Veggie Bullet or the Ninja Spiralizer you can turn broccoli stems into noodle-like strands which you can use as a low-carb substitute in a variety of dishes. It is worth noting, though, that spiralizing broccoli stems is not as easy as spiralizing, for example, zucchini, and even the best spiralizers will have trouble turning broccoli stems into perfectly shaped spirals. But, even if broccoli "noodles" don't look as impressive as spiralized zucchini, they are still delicious and a great alternative for regular noodles in stir-fries and Italian-inspired dishes.
6. Cut Them into Matchsticks
If you like to eat your broccoli raw, here's a great idea on how to use those stems: cut them into matchsticks and serve as crudités along with other raw vegetables and your favorite dipping sauce. Or, pack the broccoli sticks in a sealed container for a healthy snack on the go.
7. Incorporate Broccoli Stems into Veggie Burgers
Even if you're not a vegetarian, veggie burgers are a wonderful choice when it comes to making a tasty, filling meal. And the great thing about veggie burger recipes is that you can usually adapt them to accommodate all sorts of leftover vegetables. So, if you have leftover broccoli stems and you like the idea of making meat-free patties for lunch or dinner, why not use the broccoli stems to replace some of the other vegetables in your favorite veggie burger recipe? Just keep in mind that if you use broccoli stems as a substitute for vegetables with a much higher water content, you may need to adjust the amount of liquid in the original recipe.
8. Use Chopped Broccoli Stems in Egg Dishes
Both broccoli stems and florets are perfect for adding flavor, color and nutrients to egg dishes like omelets, scrambled eggs and frittatas. If you like the idea of incorporating some broccoli into your favorite egg dish, simply slice or chop the broccoli stems or florets, and add them to the egg mixture before cooking it on a frying pan.
9. Grate the Stems and Use in Salads
Grate broccoli stems on a box grater or in a food processor using the grater attachment, and use the grated stems to add bulk, flavor and nutrients to slaws and other salads. Also spiralized broccoli stems work well in salads.
10. Roast Them and Eat as a Side Dish
You may already know that roasted broccoli florets make a great side dish, but did you know that you can also roast broccoli stems and eat them as a side dish? To roast broccoli stems, first slice the peeled stems into thin rounds. Then, toss them in extra-virgin olive oil and a little bit of sea salt, put on a baking sheet in a single layer, and bake in an oven at 400°F for about 35 minutes, or until soft and lightly browned.

BOOK YOU MAY LIKE
Even though the health benefits of Brassica vegetables such as broccoli and kale are well documented, many home cooks still find these green veggies a little intimidating. In Brassicas: Cooking the World's Healthiest Vegetables, recipe developer Laura Russell teaches you how to bring out the wonderful flavors of these powerhouse vegetables without burying them under unhealthy ingredients like cheese. Brussels sprouts, for example, develop a wonderful sweet flavor when they are roasted, and broccoli stems pair beautifully with kohlrabi in salads. To learn more, or to order a copy on Amazon, click here (affiliate link).