Broccoli: How to Cook and Eat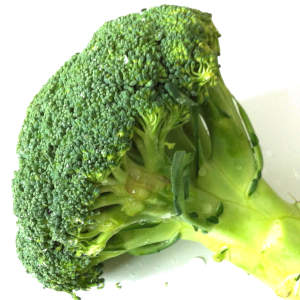 Not only is broccoli a nutritional powerhouse, it is also a versatile vegetable that can be eaten raw or cooked in a variety of ways. If you have a lot of broccoli but don't know what to do with it, here are 10 great ideas on how to use broccoli:
1. Eat Raw Broccoli as a Healthy Snack
Did you know that you can eat broccoli raw? To prepare a healthy, low-calorie snack, rinse and dry a head of broccoli, and cut the florets into bite-sized pieces and the stem into sticks. Eat with your favorite dip right away, or pack them in a lunch box for a healthy midday or afternoon snack.
2. Make a Broccoli Salad
Making a broccoli salad is yet another great way to use broccoli if you like to eat your broccoli raw rather than cooked. Adding some finely chopped raw broccoli to coleslaw and other salads is also a great way to add bulk and vitamin C to your salads. Also grilled broccoli makes a wonderful addition to salads, so if you have some leftover broccoli from a grill-out, try adding it to a salad for a boost of flavor.
3. Throw Broccoli on the Grill
Broccoli may not be the first food that comes to mind when you think about vegetables you can throw on the grill, but grilled broccoli is absolutely delicious and the perfect healthy accompaniment to a steak. Here's how to grill broccoli in three easy steps:
Heat the grill to medium-high (375-400°F).
Season rinsed and drained broccoli florets with olive oil, salt and pepper.
Grill the broccoli for 8 to 12 minutes, turning occasionally.
4. Make Mashed Broccoli
Mash doesn't always have to be potatoes. Steaming broccoli and turning it into vegetable mash is a great way to use up broccoli and make your diet more interesting. To make this healthy side dish, all you have to do is steam some fresh or frozen broccoli until crisp-tender, then puree it using a hand blender, and finally season it with salt. You can also adjust this basic recipe to suit your taste buds and health goals by pureeing other cooked vegetables like potatoes, kale or spinach together with the broccoli.
5. Make Broccoli Pesto
Give pesto a new twist by using broccoli instead of basil, the classic pesto ingredient. If you have a tried-and-true recipe for regular pesto, you can simply use that and just replace the basil with chopped raw broccoli or lightly steamed broccoli. Or, use the following broccoli pesto recipe which yields enough sauce for about 12 ounces of dried pasta:
In a food processor, chop 1/2 cup toasted pine nuts and 3 crushed garlic cloves.
Working in batches, add 4 to 5 cups of rinsed and roughly chopped broccoli florets and process until finely chopped.
Add 1/2 cup of extra virgin olive oil, juice of 1 lemon and 1/2 cup of Parmesan cheese, and process until thoroughly mixed. Season with ground black pepper to taste.
6. Top Your Pizza with Broccoli
Using Brassica vegetables such as broccoli or kale as a pizza topping is a great way to boost the nutritional value of a pizza, plus Brassicas are absolutely delicious on pizza. Some people like to lightly steam their broccoli before they spread the florets on the unbaked pizza crust, but you can also put broccoli raw on pizza. Small pieces of broccoli that go on raw come out with slightly charred edges and an irresistible crunchy center!
7. Use Broccoli as a Lasagna Filling
Pizza may be Italy's greatest culinary invention, but here's another idea for broccoli lovers who like Italian cuisine: use broccoli as a lasagna filling next time you make this popular Italian dish! You can either replace all of the meat in your lasagna recipe with steamed or raw broccoli, or only a portion. Or, combine broccoli with other vegetables like bell peppers, tomatoes, potatoes or sweet potatoes for an even more exciting lasagna filling. And don't forget, there are today tons of healthy alternatives to traditional lasagna sheets, ranging from whole-wheat lasagna sheets to bean-based lasagna sheets. In fact, you can even use vegetables like zucchini or sweet potatoes to make your own low-carb lasagna sheets if you have one of those cool vegetable sheet cutters at home.
8. Sneak Broccoli into Smoothies
Yet another great way to use broccoli is to sneak raw broccoli into smoothies. And, since any good blender will puree even the hard broccoli stems, provided that you do some pre-chopping first, you can also use those broccoli stems in smoothie recipes. Broccoli pairs particularly well with fruits like mango, banana and nectarine in smoothies. Here's an easy recipe for a broccolicious smoothie:
In a blender, combine 1 ⅔ cups of water, 1 banana, 1 cup fresh or frozen mango cubes, and ½ cup of raw broccoli florets
Blend until smooth, turning off the blender and pushing down on the ingredients with a spatula as needed to help the blending process.
Check the consistency. If the mixture seems too thick, add water accordingly.
9. Spiralize Broccoli Stems
Do you have a recipe for a broccoli dish that only uses the florets, and every time you make it you wonder what to do with those leftover broccoli stems. Here's one idea: turn them into imitation noodles using a good vegetable spiralizer such as the Veggie Bullet or the Cuisinart Prep Express. You can use spiralized broccoli stems as a low-carb substitute for regular noodles in stir-fries, salads and Italian-inspired pasta dishes.
10. Freeze the Rest and Use it Later
If you've still got some broccoli on hand and don't know what to do with it, you can always freeze it for later use. Note, though, that you should blanch broccoli before freezing it. Blanching helps destroy enzymes and bacteria that cause chemical changes that can negatively affect flavor, color and texture of frozen produce.
* * *