Blueberry vs Pomegranate – Comparison
Published: July 28, 2018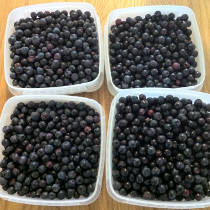 When we think of antioxidants, we often think of superfood powders like acai or maqui powder which you can buy in health food stores. But there are also plenty of antioxidant-rich foods that you can find right in the produce section of your local grocery store.
Blueberries and pomegranates are great examples of antioxidant-rich foods that are readily available in regular grocery stores and supermarkets. But when it comes to antioxidant prowess, which one of these everyday superfoods reigns supreme? To find out, we combed through research in an attempt to find studies that have compared the antioxidant activity of blueberries vs pomegranates, and this is what we found:
In 2008, a group of researchers from Cornell University measured the cellular antioxidant activity, or CAA, of 25 fruits and berries including blueberries and pomegranates. Among the tested foods, wild blueberries had the strongest antioxidant activity as measured by the CAA assay, followed by pomegranate. Cultivated blueberries were worse than either wild blueberries or pomegranate in terms of antioxidant activity, but they still ranked high compared with the other foods.
Unlike popular chemical assays such as the oxygen radical absorbance capacity (ORAC) assay or the ferric reducing ability of plasma (FRAP) assay, the CAA assay measures antioxidant activity in actual cell cultures. Because it looks at the antioxidant activity inside living cells, the CAA assay is thought to provide scientists with better insights than chemical assays into how antioxidants might react in the body. This CAA assay was developed by the Cornell University Department of Food Science at the beginning of the 21st century.
Measuring the antioxidant capacity of foods using reliable methods is important because antioxidants play a key role in disease prevention. As their name suggests, antioxidants help prevent the damage to cells that would otherwise occur as a result of an attack by reactive oxygen species, better known as free radicals. As you may already know, free radicals are generated by things like sunlight, cigarette smoke, air pollution and pesticides, and they are believed to contribute to the development of everything from heart disease and cancer to cataracts and pre-mature aging of the skin.
To conclude, wild blueberries may have slightly stronger antioxidant properties than pomegranates, but also pomegranates and cultivated blueberries are excellent sources of health-protecting antioxidants. As variety is a cornerstone of any healthy diet, it is a good idea to eat a wide range of different antioxidant-rich foods instead of focusing on a few top sources of antioxidants.
Sources
K. L. Wolfe et al (2008). Cellular antioxidant activity of common fruits. Journal of Agricultural and Food Chemistry, 56(18), 8418-26.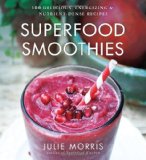 BOOK YOU MAY LIKE
Looking to incorporate some of the world's most nutritious foods into your diet? There's no better place to look for inspiration than the New York Times bestseller Superfood Smoothies by Julie Morris! From antioxidant-rich acai berries and blueberries to vitamin-packed camu camu and maqui berries, the ingredients in this much-praised book definitely tick the superfood box. What's more, Julie's creative recipes are quick and easy, and they come with handy icons highlighting their nutritional and/or health benefits (like Protein, Low Calorie, Bone Strength). To learn more or to order a copy from Amazon, click here.