Blueberries – An Antioxidant-Rich Superfood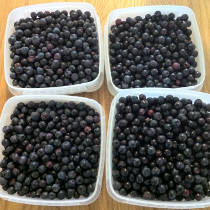 When we think of antioxidants, we often think of antioxidant-rich superfoods like acai and maqui berries which are grown in tropical countries and which you can usually only find in health food stores in the US and Europe. But the truth is, there are also tons of common foods that are loaded with antioxidants. Take blueberries, for example. Readily available fresh, frozen and dried, blueberries are a real super hero food as far as their antioxidant capacity is concerned. Much of the antioxidant power of blueberries has been attributed to a group of flavonoids called anthocyanins, the same flavonoids you find in blackberries and acai berries, but these little blue goodies also contain many other antioxidant compounds, including vitamin C and E, ellagic acid and resveratrol (a polyphenol responsible for the purported health benefits of red wine and grape juice).
Wild Blueberries Top the List of Popular Antioxidant-Rich Berries
In an interesting study published in the September 2008 issue of the Journal of Agricultural and Food Chemistry, a group of researchers led by Kelly L. Wolfe from Cornell University measured the cellular antioxidant activity, or CAA, of 25 fruits and berries commonly consumed in the United States. Unlike chemical assays such as the oxygen radical absorbance capacity (ORAC) assay or the ferric reducing ability of plasma (FRAP) assay, which are not reliable in quantifying antioxidant activity inside living cells, the CAA assay measures antioxidant activity in actual cell cultures. The CAA assay was developed by the Cornell University Department of Food Science at the beginning of the 21st century to meet the need for a more biologically relevant method that could provide researchers with better insights into how antioxidant compounds might react in the body.
The researchers found that among the tested foods, wild blueberries had the strongest antioxidant activity as measured by the CAA assay, followed by pomegranate, blackberries, strawberries and cultivated blueberries. The researchers also analyzed the total phenolic content of all the foods included in the study, as well as their antioxidant activity using the chemical-based ORAC assay. What they found was that not only did wild blueberries come out on top in the CAA experiment, they also had the highest ORAC value as well the highest total phenolic content. Cultivated blueberries, by contrast, only ranked 5th in the phenolic content experiment and 8th in the ORAC test.
Fresh, Frozen or Dried Blueberries?
There's nothing better than a bowl of fresh blueberries picked from your garden or the nearby forest! But the season for blueberries is short, and if you like to eat foods that have not traveled thousands of miles to get to your kitchen, you may have to look beyond the fresh kind to get those blueberry antioxidants.
The good news is that frozen and dried blueberries are readily available year round, and according to a study published in the Journal of Biomedicine and Biotechnology, they are rich in antioxidants, too. In fact, using chemical assays to compare the antioxidant capacity of anthocyanin extracts derived from dried, fresh and frozen blueberries, the researchers who conducted this study found no significant differences in the antioxidant activity between the various extracts. They did, however, notice that blueberries seemed to lose some of their original anthocyanin content during the drying process, but as there were no significant differences in the antioxidant activity between the three samples, the researchers concluded that anthocyanin breakdown products created during the drying process might also have antioxidant properties.
Shopping tip: Looking to stock your superfood pantry with some dried wild blueberries? You can buy freeze-dried wild lowbush blueberries on Amazon.com here

. Live in the UK? No problem– also Amazon's UK store has tons of wild blueberry products available (click here

). By buying dried blueberries through the above links you will also help keep this website up and running as Amazon will give HealWithFood.org a small commission for any purchases made through these links, of course without any extra cost on your part.
Studies cited:
1. K. L. Wolfe et al (2008). Cellular antioxidant activity of common fruits. Journal of Agricultural and Food Chemistry, 56(18), 8418-26.
2. V. Lohachoompol, G. Srzednicki and John Craske (2004). The change of total anthocyanins in blueberries and their antioxidant effect after drying and freezing. Journal of Biomedicine and Biotechnology, 2004(5), 248-252.
Sponsored Links / Ads
Book You May Like

Superfoods at Every Meal
is jam-packed with
extra nutritious recipes featuring blueberries – and 9 other readily available superfoods
. Each recipe features at least two (but oftentimes even four or five) of the author's 10 favorite superfoods: quinoa, kale, sweet potatoes, blueberries, eggs, chickpeas, honey, greek yogurt, coconut oil and walnuts. To learn more,
head to Amazon
.