List of 10 Low Calorie Fruits Worth Befriending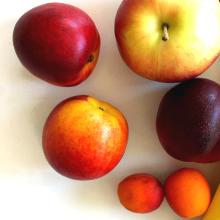 There are tons of fresh fruits to choose from in the produce aisle, all loaded with vitamins and antioxidants. But if you are on an energy-restricted diet, it helps to know which fruits are lowest in calories. To help you choose diet-friendly fruits, here's a list of 10 ultra low-calorie fruits, each of which provides fewer than 50 calories per 100 grams (or 3.5 ounces).
Note: References to the calorie contents of the below-listed foods are based on data obtained from the USDA Nutrient Database for Standard Reference (Release 27).
1. Melons
With their very high water content, melons are a great low calorie food that can also help keep you hydrated and satiated. Casaba melon and watermelon are particularly low in calories, but also cantaloupe and honeydew melons are good low-calorie choices. Ounce for ounce, kiwanos – which are also known as horned melons – are somewhat more energy-dense, but in comparison with most other fruits, they are still very low in calories.
2. Citrus Fruit
Note: Citrus fruit can cause skin to flare up in some people.
Citrus fruit, especially the sour kind, are very low in calories. A large lemon, for example, provides only about 24 calories, and a medium-sized lime weighs in at about 20 calories. Sweeter citrus fruits, such as oranges and clementines, are more energy-dense, but only slightly so. What's also great about citrus fruits is that they contain plenty of vitamin C which may, according to some preliminary research, help boost fat burning in some situations, although further research is still needed before any definite conclusions about the weight loss benefits of vitamin C can be made.
3. Strawberries
Strawberries are nutritional stars bursting with phytochemicals and flavor while being very low in calories. One cup of halved strawberries, for example, delivers barely 50 calories. Strawberries are great eaten out of hand, but they also make a great addition to salads!
4. Peaches and Nectarines
When it comes to low-calorie stone fruits, peaches and nectarines are right there on top of the list. Eating a small peach, for example, will give you just over 50 calories. Nectarines, which are a genetic variant of common peaches, are a bit higher in calories but still a very good choice if you are looking for a luscious, low-calorie fruit.
5. Prickly Pears
The fruit of the prickly pear cactus has been a staple of Central American cuisine for centuries. With a pleasant flavor reminiscent of kiwifruit, this low-calorie fruit has also been gaining some fans in North America over the past years. That said, it does have some unattractive features: First, the skin of the pear is covered with sharp, microscopic glochids which can irritate the skin if you are not careful when peeling the fruit. Second, the black seeds in the flesh are very hard, and it can be annoying to spit them out. However, if you don't mind the glochids and the hard seeds, then prickly pears are definitely worth befriending since they provide only 41 calories per 100 grams (3.5 ounces)!
6. Nashi Pears
Although they look a lot like apples, nashi pears – also known as Asian pears – are not closely related to apples. They are, however, related to western pears but do not provide as many calories as their western counterparts. Available in late August and September, nashi pears are great for baking or adding a crisp texture to salads.
7. Papaya
Next up on our list of the top low-calorie fruits is papaya, which provides 43 calories per 100 grams (or 3.5 ounces). With a sweet flavor and a soft, butter-like texture, it is no wonder this tropical fruit has been called the "fruit of the angels". Available in grocery stores year-round, fresh papaya is a great for adding a bit of tropical flair to fruit salads and smoothies.
8. Plums
One of the juiciest fruits in the stone fruit family, plums come in many different varieties, but they all have one thing in common: they are low in calories. As an added benefit, the purple and black varieties, especially Queen Garnet, contain significant amounts of anthocyanins. As you may know, anthocyanins are powerful anti-inflammatory and antioxidant compounds that have been linked to a host of potential health benefits, including improved weight loss.
9. Apricots
When it comes to the most delicious low-calorie summer fruits, fresh apricots are right there on top of the list. Clocking in at about 48 calories per 100 grams, they are light and luscious, and perfect for smoothies or eaten out of hand. When apricots are not in season, you can also opt for frozen, unsweetened apricots. What you do not want to do, however, is go for canned or dried apricots if you are counting calories – although tasty, canned and dried apricots are typically loaded with calories!
10. Apples
There are tons of different ways to use apples, but for those who are trying to cut calories, eating these juicy fruits plain as a snack may be the most sensible way. Simply throw a few apples in your bag before you leave for work or school in the morning, and reach for them whenever you need a quick healthy snack. If you prefer, you can also cut the fruit into bite-sized pieces and take them to the office or school in a lunch box – just make sure you go for apple varieties that don't brown easily once cut.
Don't Miss This

Kitrics' Smart Kitchen Scale Counts Calories, And More
Meet a kitchen scale that not only calculates portion weight but that also counts calories and provides nutritional information.
You Might Also Like
Book You May Like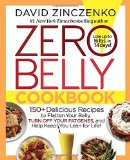 In
Zero Belly Cookbook
, ABC News' nutrition correspondent and New York Times bestselling co-author David Zinczenko serves up a collection of more than 150 recipes designed to rev up metabolism and turn off the genes that cause weight gain. Including mouthwatering recipes for meals, snacks, desserts and drinks, as well as a number of prep-ahead recipes, the dishes in this much-anticipated cookbook have been specifically designed to target the fat that matters most to your health: belly fat. In the Superstar Chef section, you will also find a slew of intriguing fat-burning recipes created by some of America's most respected and accomplished chefs. To order a copy, go to
Amazon.com
,
Amazon.co.uk
or
Amazon.ca
.