Quest for the Best Digital Nutrition Scale
Looking for a digital kitchen scale that measures calories and shows nutrition facts, in addition to measuring weight? Below, we compare a number of popular models to help you find the best nutrition scale for your purposes. All of the models included in the comparison chart below have received a lot of good reviews on Amazon, and all of them cover all the basic nutrition facts, including calories, fat, carbohydrates, fiber, sodium and cholesterol. However, there are also some key differences between the various models.
Comparison of Top Digital Nutrition Scales
The following chart shows an overview of the amount and type of information provided by some of the most popular nutrition scales available in the US. Please note that table and the rest of the article contain affiliate links, meaning that if you buy a kitchen scale or another product using those links, the author of this article may receive a small commission.
| | Eat Smart | Nutra Track Pro | Perfect Portions |
| --- | --- | --- | --- |
| Number of items in database (approx.) | 1,000 | 1,900 | 2,000 |
| Max. number of custom entries | 99 | 250 | 99 |
| Calories | Yes | Yes | Yes |
| Glycemic Index (GI) | No | Yes | No |
| Fat | Yes | Yes | Yes |
| Carbohydrates | Yes | Yes | Yes |
| Protein | Yes | Yes | Yes |
| Fiber | Yes | Yes | Yes |
| Cholesterol | Yes | Yes | Yes |
| Sodium | Yes | Yes | Yes |
| Potassium | Yes | No | No |
| Magnesium | Yes | No | No |
| Calcium | Yes | No | No |
| Vitamin K | Yes | No | No |
| Details / buy now | Click here | Click here | Click here |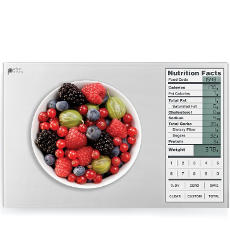 How to Pick the Best Model?
When comparing digital nutrition scales that count calories and display nutrition facts, there a number of things you might want to consider, including:
Does the scale also calculate mineral and vitamin content?
In addition to counting calories, modern digital nutrition scales typically calculate most of the same nutrition facts you would find on a real food packaging label. This generally means a breakdown of fats, carbs, protein, cholesterol, sodium and fiber. Some scales also provide values for both total fat and saturated fat to help you distinguish healthier high-fat foods from unhealthy fatty foods loaded with saturated fats.
Knowing how much energy, fats, carbs, protein, cholesterol, sodium and fiber a specific food provides is great if you are trying to lose weight or improve your cardiovascular health, but there are also plenty of other things you might want to know about the nutritional value of the food you eat. Physically active people, for example, might want to know how much magnesium and calcium a portion of specific food contains. If you are looking for a nutrition scale that also shows information about the mineral content of foods, the EatSmart Nutrition Scale might be the best choice for you (see Comparison Chart above for details).
Do you want a scale that shows Glycemic Index (GI) values?
Calorie counting has traditionally been one of the most popular tools for people trying to lose weight, but today, many nutritionists also emphasize the importance of eating low glycemic, or low GI, foods. Low GI foods cause fewer energy highs and lows associated with blood sugar spikes and crashes than high GI foods, which means you are less likely to experience sudden food and sugar cravings that could compromise your weight loss efforts.
When you multiply the Glycemic Index (GI) rating of a food by the amount of carbohydrates in grams provided by the food, and then divide the total by 100, the number you get represents the Glycemic Load (GL) of the food. Some studies suggest that meals with low GL may be associated with a reduced risk of type 2 diabetes and cardiovascular disease.
If you want a digital nutrition scale that also shows the GI value of a given food, in addition to displaying more common data like calorie count or macronutrient facts, Mackie Scientific's NutraTrack Pro might be the best nutrition scale for you.
How many food items does the database contain?
The modern nutrition scales you can buy online and in stores come with built-in food databases, and the best models can contain nutrition facts for hundreds of food items. These models typically cover a wide range of food categories, including vegetables, fruits, legumes, pasta, meat, fish, poultry, dairy products and baked goods. Some of the scales, such as the Kitrics Nutrition Scale and the Perfect Portions Scale, display the calorie counts and nutrition facts in a format that looks just like the nutrition labels you see on food packages – a great feature if you are already used to screening and analyzing nutrition labels on food packages.
What is the maximum number of custom entries?
The best digital nutrition scales typically also allow you to define and store a certain number of customized food entries, which can be very helpful in case some of your favorite foods (or beverages) are not included in the built-in database. If you want to be able to add a lot of customized entries, Mackie Scientific's NutraTrack Pro should definitely be one of your top choices as this highly customizable nutrition scale allows for up to 250 user-defined entries.
Sponsored Links / Ads
Don't Miss This

10 Cookbooks Packed with Healthy Kale-Centric Recipes
Need ideas on how to incorporate kale into your diet? Then check out these books.
More Cool Products