10 Healthy Ways to Use Up Apples
Not only are apples good for you, they are also wonderfully adaptable to a range of uses in the kitchen (whether raw or cooked). If you have some extra apples lingering in your fruit bowl but are lacking ideas on what to do with them, check out the tips below. For even more ideas on how to eat or cook apples, check out the mini-review of Amy Traverso's apple cookbook at the end of this article.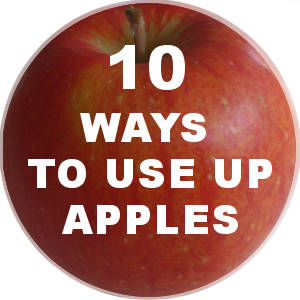 Make All-Natural Apple Chips
Making crispy, all-natural apple chips (or crisps if you're from the UK) in a food dehydrator is a wonderful way to use up extra apples. It is also a great way to preserve nature's bounty for quick, healthy snacks all year round. Aside from using dehydrated apple slices as a healthy snack, you can also chop them and use them instead of raisins in cake, quick bread and cookie recipes.
Add Them to Salads
When it comes to salads, look beyond fruit salad recipes for ideas on how to use apples. Chopped apples can turn an ordinary slaw into an exciting side dish that is sure to tantalize your taste buds, but they are also wonderful in chicken salads! For best results, use apple varieties that are slow to brown when cut, such as Cortland, Ginger Gold, SnowSweet, Ambrosia, Masanova, Cameo, Envy and Shizuka. You can also prevent browning by dipping the apple pieces into a mixture of lemon juice and water.
Apple Soup, Anyone?
You can also pair apples with vegetables to create hearty vegetable or chicken soups. Vegetables that work well with apples in soups include celeriac, cabbage, parsnips, butternut squash, fennel, sweet potatoes, carrots and leeks – just to mention a few. Depending on the recipe, you may want to use tart apples, such as Granny Smith or Pink Lady, or sweet-tart varieties like Cameo, Empire, Braeburn, Mutsu or Crispin.
Replace Unhealthy Ingredients in Cake Recipes with Apple Sauce
If you've got a nice (but not so healthy) muffin or cake recipe and lots of extra apples, consider replacing up to half of the sugar and butter/oil the recipe calls for with homemade apple sauce. A favorite among health foodies, this trick doesn't work with all recipes, but it's definitely worth a try if you are looking for healthier ways to incorporate muffins and cakes into your diet.
Roast Them with Root Veggies
Yet another healthy way to use apples is to roast them with root vegetables and then serve them as a side dish. Bursting with warming fall flavors, this hearty dish makes a wonderful addition to your Thanksgiving meal! For best results, use wedges of baking apples such as Jonathan, Empire, Braeburn, Cortland or Granny Smith, and add the apple wedges to the baking dish about 15 to 20 minutes before you think the dish will be ready as they cook faster than most root vegetables.
See Also: Oven Roasting Times for 60 Vegetables
Incorporate Them into Your Breakfast
A healthy breakfast can give you energy for hours and supply your body with a truckload of nutrients. If you've got a lot of apples on hand, why not incorporate some of them into your breakfast? Crisp and healthy, fresh sliced apples can be used to add crunch, nutrients and flavor to popular breakfast dishes such as yogurt, cereal and oatmeal.
The Perfect On-the-Go Snack
Don't have time to sit down for breakfast at home? Whole apples are a quick, prep-free solution and easy to eat on the go. And, if a serving of raw fruit in the morning is too harsh on your stomach, you can use apples as a healthy afternoon snack instead. To reduce your exposure to chemicals, carry your apples and other fruity snacks in a BPA-free, non-plastic lunch box.
Make Apple Sauce
Making apple sauce by cooking the fruit with water or fresh apple juice is a perfect way to use up a lot of apples all at once. It is also a great way to preserve the abundance for later in the season. The highly acidic Bramley is a popular variety among those who like to make apple sauce at home, but also all-purpose apples such as Granny Smith, Fuji and Jonagold will produce good results.
Juice Your Apples
With a good electric juicer, you can turn apples into fresh apple juice in a snap. Some models, such as the Kuvings B6000 juicer, even gobble up whole fruit, which means there's very little preparation involved. If you don't have an electric juicer, you can also make apple cider (the name used in the US for traditional unfiltered, un-fermented apple juice) by pureeing washed, cored and sliced apples in a food processor and then squeezing pureed apples through a cheesecloth, extracting as much juice as possible. Some of the best apple varieties for juicing include Honeycrisp, Jonagold, McIntosh, and Gala.
Use Them in Smoothies
Whether sweet or tart, apples make a wonderful base for regular fruit smoothies as well as for green smoothies (in case you missed the memo, green smoothies refer to blended beverages that pair fruit with green leafy vegetables). When using apples in smoothies, it is best to core and dice them before throwing them into the blender or smoothie maker.
Don't Miss This

List of Top Gluten-Free Grains (and Where to Get Them)
List of 10 grains definitely worth befriending if you follow a gluten-free diet.
More to Explore
Book You May Like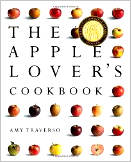 Need even more ideas on what to do with apples? Look no further than The Apple Lover's Cookbook, an award-winning guide and cookbook packed with apple facts, tips and 100 mouthwatering recipes showcasing one of the world's most versatile fruits. A must-have for all apple lovers, this inspiring recipe book covers everything from soups and dumplings, to breads and salads, to cakes and muffins. Available through

Amazon.com,


Amazon.ca and

Amazon.co.uk.