Morphy Richards' Electric Soup Makers: Choosing a Model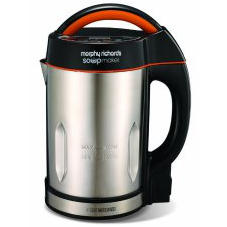 Morphy Richard's 48822 soup maker, available from Amazon.co.uk here
Create warming soups and refreshing smoothies in minutes with Morphy Richards' electric soup makers! In this review, we take a look at the key features and functions of two of popular soup maker models: Morphy Richards' 48822 Soupmaker with a stainless steel jug, and their non-stick soup maker, the Morphy Richards 501011 Saute and Soup Maker.
Healthy Homemade Soups Made Easy
Regardless of which Morphy Richards soup maker model you choose, you will be able to turn your favorite soup ingredients into hearty soups in a matter of minutes. All you have to do is prepare the ingredients, throw them into the jug and select a programme – and your Morphy Richards soup maker will take care of the rest. You no longer need to worry about your soup boiling over, or your kitchen turning into a mess. Both the 48822 model and the 501011 model feature settings for smooth and chunky soups, producing piping hot soup in the desired consistency in less than half an hour (the Smooth programme takes 21 minutes, the Chunky programme takes 28 minutes). If your soup is a little too chunky for your liking at the end of the cooking cycle, just press the Blend button until it reaches the desired consistency.
Morphy Richard's 48822 soup maker is perfect for those who are looking for an inexpensive and simple model with a stainless steel jug (to learn more about the benefits of stainless steel soup makers, see Soup Makers with Stainless Steel / Glass Jugs). The 501011 model, by contrast, has a non-stick lining and a special Sauté function, which allows you to saute ingredients like onions, garlic, ginger and spices before adding the vegetables and stock to the jug. This model also features a Pause function which lets you add seasonings during the cooking cycle.
Soup Makers That Double as Smoothie Makers
Vegetable soups and fruit smoothies are arguably among the most vitamin-rich meals out there, and the Morphy Richards soup makers covered in this review can make both! That's right, the Juice function, which does not use any heat, blends diced fresh fruit and other smoothie and milkshake ingredients into perfect drinks in just two minutes. You should note, however, that these blenders have not been designed to crush ice cubes – if you want a soup and smoothie maker that can also handle ice cubes, you might want to consider getting Andrew James' soup maker, Breville's VBL060 soup maker or Cuisinart's soup maker & blender.
User Reviews
When shopping for an electric soup maker, it is always a good idea to check out some user reviews before deciding on a specific model. Morphy Richards' 48822 soup maker has received tons of customer reviews on Amazon, with people praising how little effort it takes to make delicious soup with this clever kettle. This soup maker has also received positive feedback on its design which makes it very easy to clean with warm soapy water and a sponge. On the negative side, several users have reported problems with food burning at the base with this model, but you can reduce the risk of this happening by putting water or stock in the jug before adding the solid ingredients. For details, see all reviews for this model here.
Also Morphy Richards' 501011 sauté and soup maker has received many positive customer reviews on Amazon, with people praising its non-stick coating which prevents food from sticking to the pan and which makes clean-up a breeze. Many people also like the fact that this model allows you to sauté vegetables in the same pan and that you can interrupt the cooking process to add seasonings during the cooking cycle by lifting up the lid (when the lid is replaced, the cooking process will continue). For details, see all reviews for this model here.
Comparison of Popular Models
Here's a feature-by-feature comparison chart of two popular Morphy Richards soup makers to give you an idea of how they stack up against each other in terms of key features and functions:
| | Morphy Richards 48822 Soupmaker | Morphy Richards 501011 Soupmaker |
| --- | --- | --- |
| Amazon deal | | |
Morphy Richards 48822 Soupmaker
Morphy Richards 501011 Soupmaker
Duration of soup cycle
Smooth soup: 21 min
Chunky soup: 28 min
Smooth soup: 21 min
Chunky soup: 28 min
Duration of smoothie cycle
2 min
2 min
Saute function
No
Yes
Pause function
No
Yes
Jug capacity
1.6 litres
1.6 litres
Jug material on the outside
Stainless steel
Stainless steel
Jug material on the inside
Stainless steel
Non-stick
LED countdown timer
Yes
Yes
Buy it here
Buy it here