Review: Cuisinart Soup Maker and Blender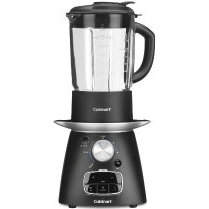 Cuisinart's soup makers are like regular blenders – with a heating function! This means they can do everything a well-built regular blender can, whether it's whipping up smoothies or crushing ice – plus more. From vegetable soups to spicy sauces, hot dishes are cooked and blended to perfection with Cuisinart cook-and-blend soup makers' razor-sharp blades and built-in heating element. In this review, we focus on the key features and functions of Cuisinart's SSB1U Soup Maker (available in the UK) and their SBC-1000 model (available in the US and in Canada).
Homemade Soups with Minimal Effort
Cuisinart's automatic soup makers take the hard work out of creating healthy homemade soups from scratch. These ingenious kitchen companions sauté, cook, simmer and blend your favorite soup ingredients into tempting hot soups in a matter of minutes. Whether you like your soup smooth or chunky, Cuisinart's cook-and-blend soup makers will create warming soups in just the right consistency to suit your preferences.
Soup Maker and Blender in One
The great thing about Cuisinart's electric soup makers is that they also double as regular blenders, allowing you to create cold smoothies, shakes, baby food, salad dressings, and more. Thanks to their razor-sharp blades, they can even crush ice cubes, which is not something every regular blender is capable of! To learn more about what you can do with these kitchen workhorses, click here (if you live in the US) or here (if you live in the UK).
No More Mess
Making soup in an automatic soup maker is a great way to avoid both unnecessary dirty dishes and a kitchen splattered with soup (a common disadvantage of using a hand blender). But that's just one of the ways these nifty kitchen gadgets can reduce the time you spend cleaning up after cooking: thanks to the blending mechanism, you can usually remove most of the food residue simply by blending a mixture of warm water and a little dishwashing liquid in your Cuisinart soup makers for a short time. For detailed instructions on how to do this, check out user manual for the SSB1U model here or for the SBC-1000 model here.
Features at a Glance
One of the most reviewed soup makers on Amazon.com, Amazon.co.uk and Amazon.ca
Powerful heating element for fast cooking
3 heat settings to choose from
4 blending speeds plus pulse option
Pulse function
Thermal glass jug
Non-stick cooking plate for easy sautéing
Crushes ice
And more!
Learn More / Order Now
At the writing of this article, Cuisinart's soup makers are among the most reviewed electric soup makers on Amazon. If you'd like to learn what people who have already bought a Cuisinart soup maker have to say, or if you'd like to buy one of these all-singing, all-dancing blenders through Amazon, check out the following links: