Andrew James Soup Maker with a Delay Timer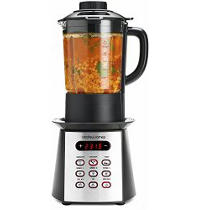 Andrew James' Premium Soupmaker, available from Amazon.co.uk here
Meet the Andrew James Premium Soupmaker – a multi-functional blender that makes hot soups from scratch, whips up refreshing smoothies in a flash, and even crushes ice! This automatic soup maker and blender even comes with a delay timer which can be programmed to postpone the soup-making process by up to 12 hours, allowing you to come home to a warm bowl of fresh, homemade soup at the end of a long day. Note that in this review we focus on Andrew James' Premium Soupmaker which comes with a sturdy glass jug, not the model that comes with a plastic jug.
Delicious Soups in Less Than 30 Minutes
The Andrew James Premium Soupmaker makes fresh, homemade soup from scratch in less than 30 minutes. All you have to do is prepare the ingredients and transfer them to the glass jug, select either the chunky or smooth setting, and the rapid heating element, razor-sharp blades and powerful 450W motor will take care of the rest. The large 1.75 litre glass jar allows you to make plenty of your favourite smooth or chunky soup to stock up for a few days or make enough to serve several people.
Timer Can Be Programmed to Delay Cooking by up to 12 Hours
One feature that sets the Andrew James Premium Soup Maker apart from many other automatic soup makers is the built-in delay function. The delay timer, which can be used to delay the cooking process by up to 12 hours, is perfect if you want to be able to come home to a warm bowl of fresh, homemade soup at the end of a long day. Bear in mind, though, that some ingredients – such as milk and cheese – are prone to spoilage at room temperature, so you'll want to use the delay timer only with ingredients that can be left at room temperature for several hours.
Not Just for Making Soup!
Equipped with a powerful motor and sharp blades, the Andrew James Premium Soup Maker is a real multi-tasker that, in addition to soups, also whips up sauces, smoothies, milk shakes, purees and baby food. It can even crush ice cubes, which makes this workhorse compete with the most powerful smoothie makers and blenders on the market.
It's Self-Cleaning
If you hate washing dishes, take note: the Andrew James Premium Soupmaker cleans itself (with a little help from you)! To clean your machine, pour some water and a few drops of washing liquid into the jug, heat up the water in the jug for a 8 minutes on the "high" setting, and then press the blend button for a short time. After that, all you have to do is let the water cool down and then rinse the jug briefly with clean water before drying it off.
Andrew James Premium vs. Other Electric Soup Makers
Here's a side-by-side comparison of popular soup makers available in the UK to give you an idea of how they compare with each other in terms of key features and functions:
Andrew James Premium
Morphy Richards 48822 Soupmaker
Cuisinart SSB1U Soupmaker
Amazon deal
Duration of soup cycle
Less than 30 minutes
Less than 30 minutes
Less than 30 min
Delay timer
Yes
No
No
Crushes ice
Yes
No
Yes
Jug capacity in litres
Hot soups: 1.40
Cold liquids: 1.65
1.60
Hot soups: 1.4
Cold liquids: 1.75
Jug material
Glass
Stainless steel
Glass
Adjustable temperature setting
Yes (100°C, 80°C or 60°C)
No
Yes (up to 110°C, 90°C or 80°C)
Buy it here
Buy it here
Buy it here