10 Ways to Eat Tiger Nuts (Chufa Nuts)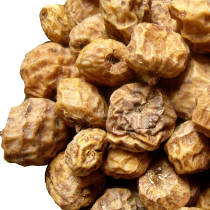 Also known as chufa nuts and earth almonds, tiger nuts are not actually nuts. Instead, they are tubers of a weedy grass called yellow nutsedge. However, they do have many things in common with real nuts, including a high protein and fiber content. They also have an earthy, slightly nutty flavor, which makes them a great addition to a wide range of dishes. If you want to reap the health benefits of tiger nuts but don't know how to eat them, here are some ideas and recipes:
1. Eat Tiger Nuts Straight Out of the Bag
Peeled tiger nuts can be eaten out of hand as a healthy snack. They make a wonderful snack with their slightly sweet taste and chewy texture that is similar to that of fresh coconut. You can also soak them for a couple of hours prior to eating if you prefer a softer texture. Unpeeled tiger nuts can also be eaten as a snack, but they are much harder than their peeled counterparts, so you'll want to soak them for at least 8 hours before eating them.
2. Make Spanish-Style Horchata de Chufa
One of the most famous ways to use tiger nuts is to use them as a basis for a Spanish drink called horchata de chufa. Sweet and creamy, horchata de chufa is made from soaked tiger nuts, water and sugar (or another sweetener). Sometimes cinnamon and lemon zest are added to the drink for an added boost of flavor. Here's a basic recipe for homemade horchata de chufa, or tiger nut milk:
Soak 1 cup of rinsed tiger nuts in the fridge until softened, about 12 to 24 hours.
Drain the nuts, and place them in a food processor or blender, along with 4 cups of water and up to 1/4 cup of sugar. If you want to make unsweetened tiger nut milk, skip the sugar.
Blend on high speed until the mixture is homogenous. Then, strain the liquid through a cheesecloth-lined sieve into a deep bowl or jug.
Whisk in a little cinnamon powder and lemon zest for added flavor (optional).
Pour the liquid from the bowl or jug into glasses and add a few ice cubes to each glass. Enjoy immediately.
3. Incorporate Them into Your Breakfast
A healthy breakfast can give you energy for hours and supply your body with protein, fiber, minerals and vitamins. If you've got a lot of tiger nuts on hand and not enough ideas on what to do with them, why not incorporate some of them into your breakfast? With their nutty, mildly sweet flavor, sliced and ground tiger nuts taste great on top of yogurt and smoothie bowls, but they also make a wonderful addition to breakfast cereals, porridge and overnight oats.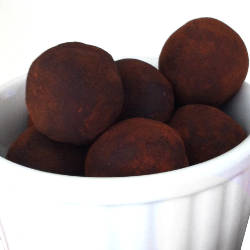 4. Make Raw Food Energy Bites with Tiger Nuts and Medjool Dates
Making raw food energy balls is one of the easiest and most delicious ways to use tiger nuts. The most basic recipe only calls for three ingredients: soaked and drained tiger nuts, Medjool dates or regular pitted dates, and raw, unsweetened cacao powder. Here's how to make them:
Soak 1 cup of tiger nuts in the fridge until softened, about 12 hours. Drain well.
Process the soaked and drained nuts, along with 1 cup of pitted dates and 1/4 cup of raw cacao powder in a small food processor until smooth.
Roll the mixture into 1-inch balls and dust with cacao powder. Refrigerate for at least an hour prior to eating.
5. Mix Them with Other Ingredients to Create a Healthy Trail Mix
Combine tiger nuts with tree nuts and dried fruit for a sweet and savory trail mix. Peeled tiger nuts are best for trail mixes because they are softer and chewier than their unpeeled counterparts, and you can eat them without soaking them first.
6. Use Tiger Nuts as a Base for Nut Butters
With their earthy, nutty flavor, tiger nuts make a great base for vegetarian and vegan butters and spreads. The most basic recipe for tiger nut butter only calls for two ingredients: ground tiger nuts and plant-based oil such as coconut oil or tiger nut oil. And, if you think that's too boring, add a bit of vanilla bean powder or cinnamon to the mixture for an extra flavor kick.
7. Make a Batch of Chocolate-Covered Tiger Nuts
Love chocolate? While it's possible to buy tigernut chocolate clusters, making your own chocolate-covered tiger nuts can be a lot of fun, plus you'll be able to spice things up a bit by adding some cinnamon, cardamom, chili powder or another chocolate-loving spice to the melted chocolate. Here's a basic recipe for chocolate covered tiger nuts:
Melt 8 oz of 85 percent dark chocolate in a double boiler over medium heat, stirring until fully melted.
Optional: Stir in some cinnamon, cardamom or chili powder.
Stir in 2 cups of peeled tiger nuts, and toss until well coated.
Transfer the chocolate covered tiger nuts onto a baking sheet covered with a silicone baking mat or parchment paper, and set aside until the chocolate is set.
Store your chocolate-coated tiger nuts in the refrigerator until ready to eat.
8. Use Tiger Nut Flour in Baking
Tiger nut flour – which you can buy here (if you live in the US) or here (if you live in the UK) – can be used just like any other gluten-free flour in baking. High in protein and fiber, it's also healthier than many other gluten-free flours. Companies who sell tiger nut flour typically recommended a 1:1 ratio when using it to replace grain- or nut-based flours in recipes for breads, pancakes, cookies and muffins.
9. Use Soaked Tiger Nuts in Smoothies
Adding some tiger nuts to a smoothie is a great way to add fiber, protein and healthy fats to your drink. Here's a simple recipe for a tasty and healthy smoothie featuring tiger nuts:
Soak a handful of tiger nuts in the fridge until softened, about 12 hours.
Put 1 ⅔ cups of water in a large-capacity blender, along with the soaked tiger nuts, 1 small peeled banana, ⅔ cup of fresh pomegranate arils, and ⅔ cup of rinsed frozen or fresh blueberries.
Process until smooth and creamy, adding more water as needed to achieve the desired consistency.
Pour into glasses and serve right away. This recipe yields 2 servings.
10. Add Tiger Nut Flour to Homemade Pasta Dough
If you have one of those fully automatic electric pasta makers that create fresh pasta from scratch, or even just a regular manual pasta maker with a crank handle, try replacing some of the regular flour your recipe calls for with fine tiger nut flour. If your tiger nut flour has a coarse, gritty texture, sift it first to remove the grits.
Buying Tiger Nuts: Choosing the Right Product
You can buy dried tiger nuts in various forms, including whole with their skins on, peeled, slices, and ground into flour. Here's a quick guide to help you pick the right product:
Peeled tiger nuts: They are softer and easier to chew than their unpeeled counterpats. These are perfect for snacking.
Unpeeled tiger nuts: They contain more fiber than peeled tiger nuts, but they can be quite hard. Soaking the dried tubers prior to eating will make them easier to chew.
Tiger nut flour: Also known as chufa flour, this nut-free and gluten-free flour makes a alternative to grain-based and nut-based flours. You can use it to replace other flours in baking, or incorporate it into smoothies, energy bites, nut butters and many breakfast dishes.
Sponsored Links / Ads
Don't Miss This

Meet Cuisinart's Electric Spiralizer, the Prep Express
Equipped with a motor, this smart spiralizer takes the hassle out of turning veggies into "noodles".
Related Articles