Where to Buy Tiger Nuts (Whole, Peeled or Ground)
Whether whole, peeled or ground into flour, dried tiger nuts are a real superfood packed with fiber, minerals and vitamins. Also known as chufa nuts and earth almonds, tiger nuts are also a versatile, allergen-free ingredient that can be incorporated into everything from Paleo-friendly smoothies to gluten-free baked goods to nut-free trail mixes (yes, "nut-free", because tiger nuts are actually not nuts but dried tubers). Of course, you can also eat tiger nuts straight out of the bag as a healthy snack if you like their unique, slightly sweet flavor and chewy texture. If you are curious about tiger nuts and would like to try and buy some, read on – this article provides information about three well-established companies that sell tiger nuts in the US, Canada and/or the UK. All the companies listed below only sell non-GMO, certified organic tiger nuts (USDA or OF&G/UK certified).
But, before we look at the different tiger nut brands out there, here's a quick guide to help you decide whether you should get peeled tiger nuts, whole tiger nuts that still have their skins on, or tiger nut flour:
Peeled tiger nuts are softer and easier to chew than tiger nuts that still have their skins on. These are the perfect on-to-go snack.
Unpeeled tiger nuts have more fiber than their peeled counterparts, but they can be quite hard. Soaking the dried tubers prior to eating will make them easier to chew. The original Spanish horchata de chufa is also made with unpeeled tiger nuts.
Tiger nut flour or chufa flour is a nut-free and gluten-free alternative to grain-based and nut-based flours. Use it to replace regular flour in baking, or use it to boost the nutritional value of your homemade smoothies.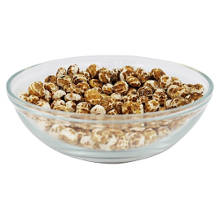 Organic Gemini
Organic Gemini is one of the largest and most successful tiger nut dedicated companies in North America. The company imports its tiger nuts form Valencia, Spain, where the original horchata de chufa comes from. However, the origin of their tiger nuts is Africa – they simply pass through the global chufa hot spot in Spain on their way to the US. When the nuts reach the US, they are packed in Organic Gemini's own dedicated gluten-free and nut-free facility in Brooklyn, NYC. In fact, as only tiger nuts are packed there, the facility is also free from other common allergens such as soy beans, peanuts and dairy. Look for Organic Gemini's organic tiger nut products in grocery stores dedicated to selling healthy foods, such as Whole Foods Market, or buy them online from Amazon using the following affiliate links:
Tiger Nuts USA
Unlike Organic Gemini, Tiger Nuts USA sells tiger nuts that have been grown in Spain, instead of Africa. After being harvested, the nuts are shipped from Spain to the company's facilities in New York. These facilities are certified organic as well as gluten-free and nut-free as only tiger nuts are packed there (no risk of cross-contamination). Also worth mentioning is that their unpeeled tiger nuts, available in the US here or in the UK here, came in first in Huffington Post's blind taste test that compared different brands and products. Look for Tiger Nuts USA's products in well-stocked health food stores, or order them conveniently online through Amazon using the following links:
Na'vi Organics
Na'vi Organics became one of the first companies in the UK to import and sell certified organic tiger nuts. However, unlike Organic Gemini and Tiger Nuts USA, Na'vi is not dedicated to selling tiger nuts and related products but its product line also contains a whole range of other "superfoods", including moringa powder, acai berry powder and alfalfa grass juice powder. What makes this UK-based superfood company special is that all the products they sell are either organic or wild-crafted. Those suffering from allergies may also be delighted to learn that Na'vi keeps its premises 100% nut- and gluten-free in order to reduce the risk of cross-contamination. You can buy Na'vi's tiger nuts in the UK from Amazon.co.uk using the following links: