Cutters for Shaping Vegetables for Picky Eaters
Getting picky eaters to eat their fruit and vegetables can be a challenge even for the most patient parent. Luckily, there are a bunch of simple strategies that can help you get your kids eat their apples, carrots and the like. One such strategy involves cutting vegetables and other healthy – but boring looking – foods into attractive, funny shapes. Kids love to eat foods that bring a smile to their faces!
If you already have a set of sturdy cookie cutters with fun shapes, you can use those to create attractive snacks for your child's bento box. If you have no set with suitable shapes, or if your cookie cutters cannot cut through harder vegetables such as carrots and celery, you might want check out the vegetable cutters below.
Note for UK residents: This article focuses on products available in the US. If you're looking to buy vegetable cutters in the UK, click here.
Carrot Cats, Cucumber Elephants, and More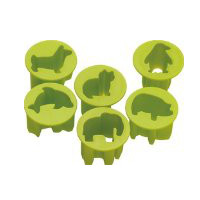 Even the most finicky eater will like the fun animal shapes you can create with the Kai Chuboos Vegetable Cutters. Featuring six adorable creatures (a dog, cat, elephant, pig, penguin and dolphin), this vegetable cutting set will help you create healthy, crunchy snacks for your child's lunchbox. Simply press the flat side with your palm, and carrots, cucumbers, apples, pears, and celery will turn into cute creatures kids will find hard to resist. Lunch box snacks aside, these vegetable cutters will increase the fun factor of any meal (who can say not to cute carrot pigs playing in a bowl of pasta, or a salad jungle populated by pink watermelon elephants?!).

Buy them here through Amazon

Spell It Out!
Here's another set of fun vegetable cutters: CuteZCute's Alphabet Set. This set contains 28 pieces that let you create small, perfectly shaped veggie alphabet, from A to Z. Use the letters to decorate contents of a bento box, or get creative and write a note on an open faced sandwich. You can also use them to add nutrition, flavor and color to soups, stews, salads, and more – let your imagination be your guide!

Order them here through Amazon
Need Inspiration?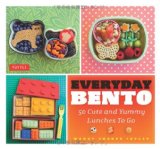 Need more ideas for fun bento lunches? There's no better place to look for inspiration than Wendy Copley's Everyday Bento: 50 Cute and Yummy Lunches to Go. The 50 bento meals featured in this compelling cookbook – all based on familiar foods – have been created around fun themes that will appeal to children and adults alike. Some of the entertaining bento creations included in this inspiring book include Princess Bento, Farm Yard Animals Bento, Snowman Bento, Rock and Roll Bento and Butterfly Bento.

Check out the price and reader reviews on Amazon