Tiger Nut Butter (Paleo, AIP, Allergen-Free)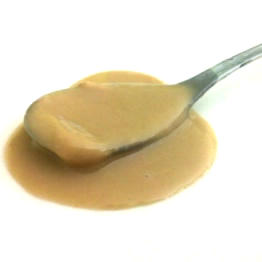 Despite their name, tiger nuts are not nuts but tubers of a plant called yellow nutsedge. Like other edible tubers, tiger nuts are naturally free from common allergens like gluten, nut proteins, soy and dairy. However, dried raw tiger nuts do look and feel a lot like nuts, and they are eaten much in the same way as real nuts. Increasingly popular in the Paleo, AIP and Raw Food communities, these little tubers are typically eaten straight out of the bag as a healthy snack, but that's only one of the many ways to eat tiger nuts.
With their earthy, nutty flavor with a hint of sweetness, tiger nuts make a great base for vegetarian and vegan butters and spreads. The most basic recipe for tiger nut butter only calls for two ingredients: ground tiger nuts and plant-based oil such as coconut oil or tiger nut oil. And, if you think pure tiger nut butter is too boring, you can always add some vanilla bean powder or cinnamon to the mixture for an extra flavor kick.
If you are not allergic to tree nuts, you may also want to experiment with replacing some of the ground tiger nuts the recipe calls for with other ground nuts, such as cashews, hazelnuts or almonds. In fact, this is exactly what some companies have done, which is great news if you want to save yourself the hassle and buy tiger nut butter, enhanced with nuts like cashews, macadamia nuts and hazelnuts.
If you want to buy tiger nut butter instead of making it yourself, check out Bim's Kitchen's nut butters. Bim's Kitchen is a UK-based small family business specialized in African-inspired sauces and condiments. Their organic, heart-healthy Tigernut & Macadamia Butter contains ground tiger nuts, lightly toasted macadamia nuts, sunflower oil and a touch of sea salt. Or, if you like cashews better, try their Tigernut & Cashew Butter which contains ground tigernuts, roasted cashew nuts, coconut, sunflower oil and sea salt.
Now, for all those who prefer a jar of pure, homemade tiger nut butter that is free from tree nuts and other common allergens, here's the magic recipe:
Ingredients
2 cups pure tiger nut flour (buy it here)
About 5 tablespoons coconut oil or tiger nut oil
Instructions
If the tiger nut flour seems gritty, pass it through a sieve to make sure it's really smooth.
Place the tiger nut flour and 5 tablespoons of oil in a high-powered blender such as Vitamix.
Process until the mixture looks like a paste, adding more oil if necessary. You may also have to stop to push down the ingredients with a spatula to help the blending process.
Serve with toast or pancakes.
Getting Hold of the Ingredients
If you have no luck finding tiger nuts and tiger nut oil in the health food stores in your area, not to worry: you can always buy tiger nuts online. The online retailer Amazon, for example, carries everything from whole tiger nuts to tiger nut flour to cold-pressed tiger nut oil.
Sponsored Links / Ads
Don't Miss This

All Stainless Steel Muffin Pan: An Alternative to Teflon-Coated Pans
Be sure to check out this muffin pan if you don't like Teflon.
More to Explore