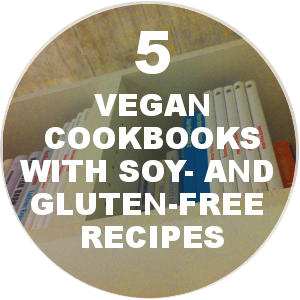 5 Vegan Cookbooks with Soy- and Gluten-Free Recipes
With food allergies and intolerances on the rise, more and more people are scouring the Internet for recipes that exclude common triggers like gluten and soy. Unfortunately, however, finding good gluten-free and soy-free recipes is not always easy, especially if you also follow a vegan or vegetarian diet plan which further limits the type of ingredients you can use. The good news is that in response to the increasing demand for soy- and gluten-free vegan recipes, you can today find a nice selection of vegan and vegetarian cookbooks that completely avoid gluten and soy, or that at least offer plenty of options that are free of these common allergens. Below we take a look at some of these cookbooks.
Note: Unless otherwise noted, the recipes in the cookbooks listed below have not been designed to treat any specific condition or disease, and some of them may call for ingredients that are not good additions to your diet.