Automatic Self-Freezing Ice Cream and Sorbet Makers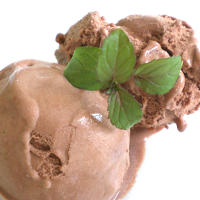 Forget the cheap ice cream makers that require you to pre-freeze the mixing bowl for hours before they can make ice cream! The new fully-automatic ice cream makers come with self-freezing bowls, so you'll be able to make luscious homemade ice cream or sorbet, batch after batch, without ever having to place the mixing bowl in the freezer. What's more, not only are they convenient, these cool gadgets also provide you with the opportunity to create healthier desserts! While store-bought ice cream is typically loaded with fat, sugar and additives, homemade ice cream or sorbet only contains what you have added to the mixing bowl. And, the best thing, you can today find tons of low-fat, low-sugar and even vegan recipes for ice creams and sorbets, both online and in print (see, for example, Paleo Ice Cream by Ben Hirshberg).
In this article, we take a look at a number of things you might want to consider before buying a fully-automatic ice cream or sorbet maker with a self-refrigerating bowl. At the end of the article, you'll also find a handy chart that provides a side-by-side comparison of some of the best-rated self-freezing ice cream makers available on Amazon.
Things to Consider When Selecting an Automatic Frozen Dessert Maker
Spectrum of frozen desserts covered. Most self-freezing frozen dessert makers produce more than just one type of dessert. That, however, doesn't mean that all of them make everything from creamy ice cream and frozen yogurt to sorbet and Italian-style gelato. In fact, in order to make gelato or sorbet, which contain less fat and air than traditional ice cream, an ice cream machine needs to have a paddle that incorporates just the right amount of air into the mixture. If you are looking for a fully-automatic, self-freezing ice cream maker that create the full spectrum of frozen desserts, check out this automatic ice cream, sorbet and gelato maker by Cuisinart. This multi-functional frozen dessert maker comes with two interchangeable paddles, one for making creamy ice cream and frozen yogurt and another one for making perfectly aerated gelato and sorbet.
Bowl size and type. Ice cream machines come in many sizes and shapes; however, the self-freezing models designed for home use typically come with 1.25- or 1.5-quart bowls. If you are looking for an ice cream machine with more capacity, you might want to take a look at Lello's commercial-grade ice cream maker with a 2-quart capacity. Bowl capacity aside, you may also want to check what material the bowl is made of (don't assume it's made of stainless steel), and whether you can remove the bowl. Having an ice cream or sorbet maker with a removable mixing bowl, as opposed to an unremovable built-in bowl, can make the clean-up easier, especially if you forget to clean the machine right after use.
See-through lid. When selecting an ice cream maker, you might also want to think about what kind of a lid the mixing bowl should have. If you buy a model that comes with a transparent lid, you will be able to watch as your favorite ingredients magically turn into wonderful, homemade ice cream or sorbet in the mixing bowl. Some self-refrigerating ice cream makers, such as the Cuisinart ICE-100 and the Breville Smart Coop, also feature a little flip-back window on the lid which allows you to add toppings and mix-ins, such as nuts, small pieces of fruit or chocolate chips, without interrupting the mixing/freezing cycle.
Price and user reviews. Ice cream makers are today available in all price ranges, but if you are looking for a model with a self-freezing bowl, be prepared to pay several hundred dollars for your new kitchen companion. To get an idea of the price range for self-refrigerating ice cream and sorbet makers, check out the comparison chart below. The chart also includes links to the relevant product pages on Amazon where you can read reviews written by people who have already used these machines. Reading and comparing user reviews of different ice cream makers can provide you with first-hand information about the pros and cons of different models, and ultimately help you find the best ice cream or sorbet maker for you and your family.
Comparison of Self-Refrigerating Ice Cream and Sorbet Makers
Here's a feature-by-feature comparison chart of some popular self-refrigerating ice cream and sorbet makers to give you an idea of how they stack up against each other in terms of price, rating and key features:
Cuisinart ICE-100
DeLonghi GM6000
Musso Lussino
Current Amazon.com price in US$
What it makes
Ice cream, gelato, sorbet, frozen yogurt
Gelato, sorbet
Gelato, sorbet, frozen yogurt
Bowl type
Removable
Removable
Built-in
Bowl material
Anondized aluminum
Stainless steel
Stainless steel
Bowl dishwasher-safe
No
Yes
No
Capacity
1.5 quarts
1.25 quarts
1.5 quarts
See-through lid
Yes
Yes
Yes
Country of manufacture
China
China
Italy
Read user reviews or buy now
Click here
Click here
Click here
Click here
Click here
Click here
Note for UK residents: You you are looking to buy a self-freezing ice cream or sorbet maker in the UK, head to Amazon.co.uk