Dessert Bullet Frozen Treat Maker – NutriBullet's Little Brother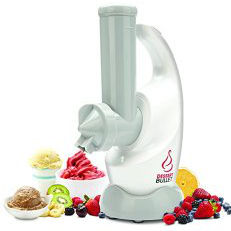 Ice cream is one of the most popular summer treats in North America and the UK, but unfortunately this creamy, sweet treat is not exactly the healthiest dessert out there. Especially the store-bought kind is usually jam-packed with saturated fat, sugar and additives, all of which can wreak havoc on your health. This is where the Dessert Bullet comes in! Created by the same folks who are behind the hugely popular NutriBullet and the original Magic Bullet, this compact dessert maker creates healthy, all-natural frozen fruit treats by squashing frozen bananas and other fruits into mock ice cream that looks and feels just like real soft serve.
How to Make Healthy Soft Serve in 10 Seconds
Not only does the NutriBullet's "little brother", the Dessert Bullet, have a fan base in the US, it is also gaining fans across the border in Canada, as well as in the UK. Besides giving you access to healthy and cheap frozen treats, the Dessert Bullet is extremely easy to use, which may partly explain its growing popularity in North America and the UK. To make a guilt-free frozen fruit dessert with the Dessert Bullet, all you have to do is follow these simple steps:
Step 1: Peel and dice bananas and other fruits of your choice, and freeze the fruit pieces for at least 24 hours. Over-ripe bananas make particularly delicious frozen fruit desserts because of their extra sweet flavor.
Step 2: Take the frozen fruit pieces out of the freezer and let them thaw for about 5 to 10 minutes. Meanwhile, place the Dessert Bullet on a clean and dry countertop, and put a serving bowl beneath the dispenser.
Step 3: Turn on the machine, and in a random order, insert the slightly thawed fruit pieces into the chute and push down with the plunger. In a matter of seconds, you will have a bowl full of healthy, dairy-free faux ice cream that looks and feels just like the real deal!
Dessert Bullet vs Blender vs Food Processor
Health-conscious foodies were making one-ingredient banana "ice cream" and other 100% fruit-based frozen desserts in blenders and food processors already years ago when no one had heard of the Dessert Bullet or its competitor, the Yonanas Maker. The problem with blenders is that some of them are simply not powerful enough to handle large amounts of frozen fruit pieces, plus you might have to add some liquid to get things moving in your blender, which in turn means you might end up with a frozen treat that looks more like a smoothie than soft serve ice cream. What's more, scooping thick fruit puree out of a blender can be tricky because of the shape of the machine – the Dessert Bullet, by contrast, extrudes your frozen treat directly into the serving bowl, plus your dessert will look just like real soft serve ice cream! Finally, it can take blenders and food processors several minutes to turn frozen bananas and other fruits into smooth puree; the Dessert Bullet, on the other hand, only takes a few seconds to turn your favorite frozen ingredients into fruity soft serve.
See Also: Yonanas vs Blender vs Food Processor
Recipes for the Dessert Bullet
There are tons of recipes and ideas for healthy frozen fruit treats that can be made using the Dessert Bullet, or even a high-powered blender such as the VitaMix, provided that you mix in some liquid (note that the NutriBullet blender is not strong enough to handle large amounts of frozen fruit). Whether you feel like having a traditional banana-based frozen fruit treat, or a more sorbet-like dessert that contains no creamy bananas, the following flavor combinations should help you develop your own recipes for the Dessert Bullet. Please note that all the fruits and berries should be rinsed, peeled, and cored/pitted, if necessary, and frozen for at least 24 hours. Fruits should also be cut into bite-sized pieces before freezing so that the Dessert Bullet can handle them with ease. All other ingredients, such as spices and flavorings, should not be frozen, but you should combine them in a bowl with the frozen ingredients before sending everything through the Dessert Bullet.
Banana + Blackberries + Vanilla Extract
Banana + Vanilla Yogurt + Vanilla Extract
Banana + Hazelnut Spread + Coconut Milk + Vanilla Extract
Banana + Cherries
Banana + Strawberries
Banana + Raspberries
Banana + Blueberries
Banana + Dark Chocolate
Banana + Cherries + Dark Chocolate
Banana + Dark Chocolate (garnish with coconut flakes)
Banana + Cacao Powder
Banana + Chocolate Hazelnut Spread
Banana + Peach + Raspberries
Banana + Pineapple + Cherries
Banana + Apple (garnish with chopped walnuts)
Banana + Apple + Cinnamon
Banana + Raspberries + Cranberries
Banana + Cranberries + Orange
Banana + Grapefruit + Green Grapes
Banana + Avocado + Green Grapes + Lime
Blueberries + Raspberries + Strawberries
Blueberries + Strawberries + Blackberries
Blueberries + Raspberries (garnish with coconut flakes)
Kiwifruit + Green Grapes
Dessert Bullet Now Available in the US, Canada and UK
So you think the Dessert Bullet Frozen Treat Fruit Maker would be a nice addition to your arsenal of healthy kitchen gadgets? Whether you live in the US or Canada, or across the pond in the UK, you can buy this healthy frozen treat maker conveniently through the online retailer Amazon using the following affiliate links: