Cuisinart ICE-100 – An Automatic Ice Cream, Sorbet and Gelato Maker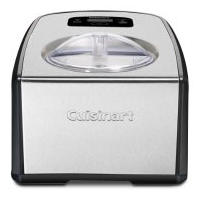 Wow your family and friends with homemade ice cream, gelato, frozen yogurt and sorbet! Cuisinart's automatic ice cream and gelato maker, the Cuisinart ICE-100, has a built-in freezer, so there's no ice and salt to deal with, and there's no bowl that needs to be frozen for hours before the machine can make ice cream. This fully-automatic, self-refrigerating ice cream maker comes with two interchangeable paddles, one for ice cream and frozen yogurt and another one for Italian-style gelato and sorbet. The self-freezing bowl is made of anodized aluminum, while the lid is made of clear plastic, allowing you to watch the mixing/freezing process. The Cuisinart ICE-100 also has a built-in timer that beeps when the freezing cycle is finished, as well as a keep-cool feature to keep your frozen desserts cold for up to 10 minutes. For a detailed overview of the key functions and features of the Cuisinart Ice Cream and Gelato Maker ICE-100, keep reading. For recipes designed for the Cuisinart ICE-100, click here.
Fully Automatic Model with Self-Freezing Compressor
It is not surprising that the Cuisinart ICE-100 has received a lot of good reviews on Amazon. Unlike many other ice cream makers, including the Cuisinart ICE-21 and Cuisinart ICE-30BC, this fully automatic model is equipped with a self-freezing compressor which means there is no need to pre-freeze the mixing bowl overnight before making a batch of ice cream. All you have to do is add the ingredients to the removable mixing bowl, lock the lid into place and set the countdown timer, and you will have authentic gelato or creamy ice cream within an hour. The Cuisinart ICE-100 also has a keep-cool feature which keeps your ice cream or gelato cool for up to 10 minutes after the timer has gone off if for some reason you cannot take out your frozen treat right away.
Two Paddles – One for Ice Cream and Frozen Yogurt, Another for Gelato and Sorbet
The Cuisinart Ice Cream and Gelato Maker ICE-100 comes with two interchangeable paddles – one for making frozen yogurt and creamy ice cream and another one for making Italian-style gelato and sorbet. Compared with regular ice cream, gelato contains less air and is therefore denser, plus it has a higher proportion of milk and a lower proportion of cream and eggs than American ice cream.
Exciting Recipes to Try Your Hand At
There are tons of great recipes for the Cuisinart ICE-100 in the user manual which normally accompanies the machine when you buy it new. And these recipes even come with nutritional information, providing you with details of how many calories and how much fat, protein, carbohydrates, cholesterol, sodium, calcium and fiber each frozen dessert contains. Here are some of the recipes you'll find in the manual:
Simple Vanilla Ice Cream
Simple Chocolate Ice Cream
Butter Pecan Ice Cream
S'Mores Ice Cream
Fresh Strawberry Ice Cream
Peanut Butter Cup Ice Cream
Vanilla Bean Ice Cream
Buttermilk Ice Cream
Fresh Mint with Chocolate Cookies
Mexican-Style Chocolate Ice Cream
Dairy-Free Vanilla Ice Cream
Sugar-Free Vanilla Ice Cream
Goat Milk Ice Cream
Coconut Chocolate Ice Cream
Basic Vanilla Gelato
Espresso Gelato
Lemon Gelato
Mixed Berry Gelato
Olive Oil & Thyme Gelato
Pistachio Gelato
Honey-Almond Frozen Yogurt
Pumpkin Frozen Yogurt
Coconut Sorbet
Clear Plastic Lid with a Door for Mix-Ins
The Cuisinart Ice Cream, Gelato and Sorbet Maker ICE-100 has a neat transparent lid which allows you to watch your favorite ingredients turn into creamy ice cream or gelato in the mixing bowl. The lid also has a little flip-back window which allows you to add toppings and mix-ins, such as nuts or chocolate chips, without interrupting the mixing/freezing process. Cuisinart recommends adding ingredients like chips and nuts about five minutes before the freezing process is complete to make sure they are fully incorporated into the frozen mixture.
Removable Mixing Bowl for Easy Clean-Up
After making a batch of ice cream or gelato, simply remove the mixing bowl and clean it with warm soapy water. Note that the mixing bowl is made of anodized aluminum and is not dishwasher-safe. You should also not clean with abrasive cleaners. If you are looking for an automatic, self-freezing ice cream maker with a stainless steel mixing bowl, you might want to check out the Lello Musso Lussino.
For More Information (Price Details, User Reviews, Etc)
So you think Cuisinart's fully-automatic ice cream, gelato and frozen yogurt maker might be the right choice for you and your family? To order one today, or to read some of the many user reviews written about this machine, click on the following links: