Quest for the Best Deal on a Zojirushi Bread Maker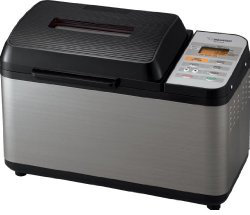 Zojirushi BB-PAC20, available from


Amazon.com or from

Amazon.ca
Zojirushi's automatic home bakeries have taken North America by storm, amassing a loyal Zo fan base across the continent, from Southern California and Texas to Toronto and Montreal in Canada. The Zo enthusiasts describe Zojirushi's bread makers as top of the range in terms of bread texture, easy to use, and exceptionally versatile (did you know that the Virtuoso BB-PAC20 and Supreme BB-CEC20 models can make things like meatloaf and sourdough starters – and that is of course in addition to breads, cakes, doughs and jams).
Whether you're looking to replace your old Zojirushi model or whether you're simply looking to buy a top rated bread machine, the task of finding the best modern Zojirushi bread maker for your family may not be as easy as it may sound. Today, several models are available in the US and Canada, and all of them have received good reviews on Amazon and all of them are great workhorses. Therefore, it is important that you peck around for the best deal / model for you. For example, if you don't have a big family to feed, you might want to get the Zo Mini (BB-HAC10), which produces 1-lb loaves, instead of getting the Virtuoso or Supreme, which produce 2-lb loaves. The Mini model is likely to be the cheapest Zojirushi model you'll find in the US or Canada (at least if you're looking for a new machine rather than a used or refurbished product).

Top bread machine deals on Amazon
But that's just one example of how getting a bread maker that best matches your requirements can save you hard earned money. To get more examples, keep reading.
Finding the Best Zojirushi Home Bakery System for Your Home
What's the best Zojirushi bread maker? Unfortunately, there's no straightforward answer – instead, the verdict depends largely on your requirements and preferences. How many kneading blades should the machine be equipped with (i.e. dual vs single blade construction)? Do you want to be able to create your own customized baking cycles? Should the breadmaker have a pre-programmed gluten-free cycle? How many crust options do you want to be able to choose from? Do you prefer traditional horizontal loaves or tall, vertical loaves? What about the loaf size?
To help you find the best deal for your requirements and budget, HealWithFood.org did some online research and put together a comparison chart that shows how different Zojirushi bread machines available to American and Canadian shoppers compare against each other in terms of key features, functions and price. Have a look:
Virtuoso BB-PAC20
Supreme BB-CEC20
Mini BB-HAC10
Amazon deal
Highlights

Top rating on Amazon.com
3 customizable programs
Dual blades
Also makes sour dough starters and even meatloaf!
Traditional rectangular shaped 2-lb. loaf
Heater built into lid for an evenly browned crust

3 customizable programs
Dual blades
Also makes sour dough starters and even meatloaf!
Traditional rectangular shaped 2-lb. loaf
Also available in white

1-lb. loaf ideal for singles and smaller families
Compact design takes up minimal space in the kitchen
Top rating on Amazon

Customizable programs
3
3
None
100% whole wheat program
Yes
Yes
Yes
Gluten-free program
Yes
No
No
Jam/compote program
Yes
Yes
Yes
Complete list of programs
See manual
See manual
See manual
Lid heater (for extra-even baking)
Yes
No
No
Crust options*
Light
Medium
Dark
Light
Medium
Dark
Regular
Light
Loaf size
2 lb
2 lb
1 lb
Loaf shape
Horizonal
Horizonal
Vertical
Keep warm function
Up to 60 min
Up to 60 min
Up to 60 min
Kneading blade system
Dual blade
Dual blade
Single blade
Viewing window
Yes
Yes
Yes
LCD display
Yes
Yes
Yes
Delay timer*
Up to 13 hours
Up to 13 hours
Up to 13 hours
Electrical rating
120 volts / 700 watts
120 volts / 700 watts
120 volts / 450 watts
Detailed description, user reviews, price information, etc
Learn more
Learn more
Learn more
Learn more
Learn more
Learn more
*Only available on select programs (see the user manuals for details)