Panasonic SD-ZB2502-BXC: An Upgraded Version of the Best-Selling SD-2501-WXC
As of the writing of this article, Panasonic SD-ZB2502 BXC is one of the highest rated bread makers on Amazon.co.uk. Sold in the UK and Ireland, this beloved breadmaker boasts a host of features designed to produce a range of delicious breads, including 100% rye bread as well as gluten-free breads (for examples of the wonderful breads you can make with your pre-programmed Panasonic SD-ZB2502, scroll down to the bottom of this page).
Panasonic SD-ZB2502 BXC comes with a non-stick pan and kneading blade, both of which are diamond-fluoro-coated (a feature unique to Panasonic bread makers). According to the manufacturer, diamond-fluoro-coated surfaces are twice as tough and scratch-proof as the surfaces of conventional non-stick pans and blades.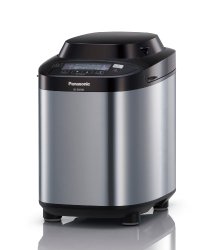 Panasonic SD-ZB2502 BXC features three crust settings – light, medium and dark – to give your bread the desired finish. It also has three loaf size settings, allowing you to bake only as much as you need.
What's more, Panasonic's modern models, including SD-ZB2502 and its cousin SD-2501-WXC, incorporate a digital delay timer which can be set up to 13 hours in advance – great if you want to wake up to the smell of freshly baked bread! Or set the timer before leaving for work in the morning so that you can come home to a warm loaf of wheat, spelt or rye bread at the end of a long day at the office. You should note, however, that the delay timer cannot be used on certain programmes, such as the special Gluten-Free Programme and the dough programmes.
Yet another feature that sets Panasonic SD-ZB2502 BXC apart from some of the cheaper bread machines available in the UK and Ireland is its automatic yeast dispenser, which adds the yeast into the dough at the optimum time. It also features an automatic raisin and nut dispenser, which releases add-ins such as chopped dried fruits and nuts into the dough exactly at the right moment, provided that you choose a programme/cycle that supports this function. Some of the earlier Amazon reviewers who wrote their reviews of the SD-ZB2502 model back in 2011 mentioned having problems with the raisin and nut dispenser accidentally opening, but the more recent reviews have generally been very positive.
Comparison: Panasonic SD-ZB2502-BXC versus Panasonic SD-2501-WXC
Both in terms of size and functions, Panasonic SD-ZB2502-BXC is very similar to Panasonic SD-2501-WXC, a top rated kitchen appliance and Amazon UK's best-selling breadmaker (as of August 2014). In fact, SD-ZB2502-BXC differs from SD-2501-WXC only in two major ways: first, it has a sleek stainless steel design (vs white plastic housing); and second, it has an automatic yeast dispenser which the SD-2501-WXC model does not have. The following comparison chart provides a more comprehensive overview of the different features of these two machines:
| | | |
| --- | --- | --- |
| | Panasonic SD ZB2502 BXC | Panasonic SD 2501 WXC |
| Design | Stainless steel | White plastic |
| Weight | 7.6 kg | 7.0 kg |
| Number of bread & dough modes | 10 | 10 |
| Express bake option | Yes | Yes |
| Bake only option | Yes | Yes |
| Jam/compote programme | Yes | Yes |
| Gluten-free programme | Yes | Yes |
| 100% rye programme | Yes | Yes |
| Crust settings | Light, medium, dark | Light, medium, dark |
| Loaf size options | M, L, XL | M, L, XL |
| Viewing window | No | No |
| Delay timer | up to 13 hours | up to 13 hours |
| Coating (pan, blade) | Diamond-fluoro | Diamond-fluoro |
| "Homemade" programmes | No | No |
| Keep warm function | Yes | Yes |
| Yeast dispenser | Yes | No |
| Raisin and nut dispenser | Yes | Yes |
| Get the Amazon deal | Click here | Click here |
Breads You Can Make with SD-ZB2502-BXC Using the Different Modes
As promised earlier in this article, here are a few examples of breads you can make with your pre-programmed Panasonic SD-ZB2502 (for detailed instructions, see the Panasonic SD-ZB2502 user manual):
Basic Mode
Whole Wheat
Rye Bread
Italian Style
Other Modes

Spicy Fruit
Cider Apple Bread
Apricot and Almond Loaf
Wheat Germ Bread
Oat and Bran Bread
Malted Fruit Loaf
Curry and Mango Bread
Gluten & Wheat Free Bread
etc...

Wholemeal 100%
Wholemeal 70% or 50%
Honey and Sunflower Bread
Pesto and Pinenut Loaf
Maple and Pecan Nut Bread
Spicy Fruit Bread
Seeded Soya Loaf

Rye 100%
Rye & White
Rye & Wholemeal
Rye & Stout
etc...

Easy Ciabatta
Pesto, Onion & Garlic Bread
Sundried Tomato & Parmesan Bread
Oregano & Olive Bread
Tomato Focaccia
etc...

Rustic French
Brioche
Whole Spelt
Rye & Spelt
Lemon & Poppy Seed Spelt Bread
Doves Farm Gluten Free
Glutafin Gluten-Free
Juvela Gluten-Free
Sainsbury's Gluten and Wheat Free