Bread Machines for Making Big Loaves (for Big Families)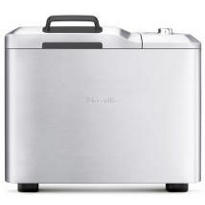 Making bread in an automatic breadmaker can shave your grocery bill, especially if you have a big family to feed. Unfortunately, however, most bread machines sold in North America and the UK are designed for small and medium sized families, and the biggest loaf size they support is typically around 2 pounds (or 900 grams). But don't lose hope just yet – there are also a number of models that can create big loaves weighing up to 3 pounds – or even more!
Below, we review some popular bread machines that are ideal for making big loaves for big families. As you will see, many of the models included in this review, especially those designed for making extra big loaves, are so-called two paddle bread machines. Thanks to two simultaneously operating kneading blades, these workhorses make sure even the biggest dough gets thoroughly and evenly kneaded, resulting in a successful rising process and a nicely shaped loaf. As an added benefit, most dual paddle breadmakers produce 'normal' looking loaves – that is, the kind of horizontal loaves we've got used to seeing in the grocery stores and bakeries. By contrast, loaves produced by single blade machines are typically rather tall and almost square in shape.
Comparison of XL Breadmakers for Making Extra Large Loaves
If you have trouble finding an automatic breadmaker that produces extra large loaves in the shops near you, don't worry – you can always buy one online. Below, we take a look at four XL bread machines available through the online retailer Amazon – two of the machines have been built to meet North American electrical standards, while the other two have been designed for the UK market.
The North American models covered in this review include Breville's BBM800-XL Custom Loaf, a high end bread machine that offers four loaf size options, and Black and Decker's B6000C Deluxe Bread Maker, which can make loaves weighing up to 3 pounds. For UK residents looking to buy a bread maker for making extra big loaves, we've included two models: Breville's Twin Paddle breadmaker, which makes loaves weighing up to 1,400 grams (or 3 pounds) and the Unold 68511 Backmeister, which is capable of making extra large loaves weighing up to 1,800 grams (about 4 pounds).
All of the bread machines included in this review also feature crust color control (giving you the choice of light, medium, or dark crust), viewing window (which allows you to sneak a peek without lifting the lid), delay start function (which lets you delay the operation by several hours – great if you want to have fresh bread when you wake up in the morning) and keep warm function (which keeps your bread warm for up to 60 minutes after baking is complete). In addition, all four bread machines offer a gluten-free cycle for making gluten-free bread, as well as a special cycle for making jam or compote.
1. Models built to North American electrical standards
Breville BBM800XL
Black & Decker B6000C
Preset programs
14
10
/tr>
Jam program
Yes
Yes
Gluten-free program
Yes
Yes
Custom program(s)
Yes
No
Other programs
See manual
See manual
Loaf size options*
1.0 lb
1.5 lb
2.0 lb
2.5 lb
1.5 lb
2 lb
3 lb
Crust settings*
Light
Medium
Dark
Light
Medium
Dark
Viewing window
Yes
Yes
Delay start function*
Up to 13 hours
Up to 13 hours
Keep warm function*
Up to 1 hour
Up to 1 hour
LCD display
Yes
Yes
Number of paddles
1
2
Amazon price
Click here
Click here
Click here
Click here
*May be available on select cycles/programs only (see user manuals for details)
2. Models built to meet British electrical standards
Breville Twin Paddle
Unold 68511 Backmeister
Preset programs
12
9
Jam program
Yes
Yes
Gluten-free program
Yes
Yes
See manual
See manual
Loaf size options*
900 g
1,200 g
1,400 g
750 g
to
1,800 g
Crust settings*
Light
Medium
Dark
Light
Medium
Dark
Viewing window
Yes
Yes
Delay start function*
Up to 15 hours
Up to 13 hours
Keep warm function*
Up to 1 hour
Up to 1 hour
LCD display
Yes
Yes
Number of paddles
2
2
Click here
Click here
*May be available on select cycles/programs only (see user manuals for details)