Superfood Pantry Staple:
Freeze-Dried Camu Camu Powder in Organic Quality
Camu camu, also known as cacari, is a bushy, low-growing river-side tree that is found in the swampy and flooded areas of the Amazon rainforests in Peru, Brazil and a few other countries. The tree produces a small round fruit about the size of a cherry. The fruit of the camu camu tree is exceptionally high in vitamin C, and suppliers of "superfoods" are extolling the virtues of this Amazonian powerhouse fruit.
As knowledge about the various potential health benefits of camu camu spreads, more people interested in natural, nutrient-dense pure foods are looking to add camu camu to their diet. And that, of course, means more and more health food stores start stocking their shelves with dried camu camu fruit powder, the most common form of camu camu fruit sold in the US and the UK. Some of the best camu camu powders are also readily available from online stores, and you can even buy camu camu powder in bulk online and have it shipped directly to your home.
In this article, we take a look at two brands of organic, freeze-dried camu camu powder: one that is readily available in the US and one that you can easily buy online in the UK. Both products only contain 100% pure camu camu powder, meaning that they are free of additives and preservatives. What's more, both powders have been dehydrated using lyophilization, or freeze drying, in order to preserve camu camu's nutritional value. As both of these products are basically raw in the sense that they have not been heated to high temperatures, they are also a great choice for people on so-called raw diets.
Disclaimer and disclosure: Some of the product details provided below may have changed since the writing of this article. For latest information, please contact the actual seller or supplier. Please also note that this page contains affiliate links which means that by purchasing a product through those links, the author of this article may receive a small commission, without any extra cost on your part.

For American shoppers:
USDA Certified Organic Freeze-Dried Camu Camu Powder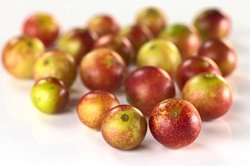 If you live in the US and are looking to buy organic camu camu fruit online, you might want to check out Optimally Organic's dried and powdered camu camu which is available through Amazon.com here. This product only contains 100% pure camu camu – no additives or preservatives are added to the powder. What's more, it has been lyophilized (freeze-dried) to minimize nutrient loss, and it comes with the USDA's certified organic label.

For British shoppers:
Freeze-Dried Camu Camu Pulp Certified by the UK Soil Association
If you live in the UK and are looking for organically-grown camu camu that has been freeze-dried to protect its nutritional value, be sure to check out Sevenhills Organic's certified-organic camu camu powder which is available through Amazon.co.uk here. Packaged in the UK, this powder is made from camu camu fruits grown in farms in Peru. After harvest, the fruit is turned into a pulp almost immediately, and the pulp is then freeze-dried and ground into fine powder. In addition to being certified organic by the UK Soil Association, Britain's leading organic food and farming charity and certification body, this product has also been registered with the Vegan society. What's more, this additive-free product contains 100% pure camu camu powder, so you don't have to worry about any unnecessary fillers, colors or binders getting into your body when you use Sevenhills' camu camu powder.
Don't Miss This

Portable Glass Bottles with Protective Silicone Sleeves
Silicone-wrapped glass water bottles are all the rage among health-conscious consumers.
More to Explore
Book You May Like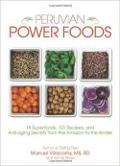 Did you know that some of the most nutrient-dense foods on the planet hail from Peru? In
Peruvian Power Foods
registered dietitian Manuel Villacorta provides
101 enticing recipes showcasing Peruvian superfoods
like camu camu, quinoa, maca, avocado, lucuma, cilantro, yacon, papaya, sweet potatoes and many more! Jam-packed with nutritional info and stunning photography, this exciting 300-page guide and cookbook is available through
Amazon.com
,
Amazon.co.uk
and
Amazon.ca
.