10 Ways to Use Camu-Camu Powder (including Easy Recipes)
Camu camu fans, take note: this Brazilian superstar fruit with a sour taste and a super high concentration of vitamin C is not just good for health-boosting smoothies. Camu camu powder, the most readily available form of camu camu in North America and Europe, can be used to enhance the nutritional profile of everything from baked goods to marinades to vegan ice cream. And the best thing is, with camu camu powder, a tiny amount goes a long way: just one teaspoon of this Amazonian superfood can deliver more than 10 times the recommended daily value for vitamin C. That's also why you should never exceed the dosage recommendations provided by suppliers of camu camu powder and why you should talk to a qualified health care provider before taking camu camu powder if you suffer from any condition or disease, take medications, or plan to use camu camu powder in the long term.
Here, we take a look at 10 ways to eat and use camu camu powder to help you incorporate this extraordinary South American fruit into your daily diet:
1. Sneak it into Smoothies
The perhaps most common way to use camu camu powder is to sneak it into smoothies. If you need recipes, check out HealWithFood.org's quinoa, banana and guava smoothie which gets an extra nutrient kick from camu camu powder, or this raspberry and camu camu smoothie. For even more recipes, you might want to get Julie Morris' Superfood Smoothies, a cookbook featuring tons of smoothie recipes showcasing exotic superfoods, including a number of camu camu recipes.
2. Use it in Baked Goods
Did you know that you can also use camu camu powder in baking? In addition to boosting the nutrient profile of baked goods, this Andean superfood may also help improve the texture of your breads and breakfast buns. Adding a small amount of vitamin C powder to bread mixes has been shown to increase the efficiency of the yeast, helping to raise loaves, and who can think of a better natural source of vitamin C than organic, freeze-dried camu camu powder?
3. Add it to Homemade Pasta Dough
If you have one of the new fully automatic electric pasta makers, or even just an old-fashioned pasta machine with a crank handle, take note: camu camu powder can also be used to boost the nutritional profile of homemade pasta dough! And even if you don't make your pasta from scratch, you can still incorporate this superfood powder into your pasta dishes by adding it into the sauce (see tip #4 below).
4. Eat it in Sauces
One of the easiest ways to use camu camu powder is to add it to sauces. Camu camu powder dissolves better in sauces than in thin liquids (such as juices or water), and the spices, herbs and other strong-flavored ingredients commonly used in sauces help make sure that the acidic flavor of camu camu doesn't overpower the dish. The best way to use camu camu powder in sauces is to stir it into the concoction towards the end of the cooking process; this way, you won't destroy too much of the vitamin C in camu camu.
5. Tenderize a Steak with a Camu Camu Marinade
You can also try incorporating a small amount of camu camu powder (or juice, if you can get it) into your favorite meat marinade recipe. An acidic component in a meat marinade – whether it's vinegar, lemon juice, or camu camu – helps tenderize the meat, resulting in a softer and juicier steak.
6. Sneak Camu Camu Powder into Salad Dressings
Yet another great way to sneak some camu camu into your diet is to add a dash of dried and ground camu camu to salad dressings. If you don't already have a good basic recipe for an oil and vinegar-based salad dressing, try this: Pour 6 tablespoons extra-virgin olive oil and 2 tablespoons vinegar into an empty mason jar. Add 2 tablespoons chopped fresh herbs (or a pinch of dried herbs), 1 teaspoon Dijon mustard, a pinch of salt and black pepper, and – if using – 1/4 teaspoon camu camu powder. Screw on the lid, shake well, and let the flavors mix in the fridge for at least 30 minutes before using the dressing.
7. Use Camu Camu in Breakfast Dishes
Not only is camu camu great in frozen yogurt, it also makes a wonderful addition to regular yogurt eaten at breakfast. Yogurt aside, you can also add camu camu powder to many other popular breakfast dishes, such as oatmeal and granola. The perfect way to start a day off right!
8. Make Healthy Vegan "Ice Cream"
In Peru, camu camu fruit is sometimes used as an ingredient in flavored ice cream. However, normal ice cream made with refined sugar and heavy cream isn't exactly the healthiest dessert out there, which is why we won't be including a recipe for Peruvian camu camu ice cream here. Instead, we'll be including a super-healthy recipe for vegan ice cream that you can spice up with a bit of camu camu powder, or pretty much any other superfruit powder. And the best thing is, this recipe is ridiculously easy: all you have to do is put a sliced banana in the freezer for at least three hours, then whiz it up in a blender together with a pinch of camu camu powder until it gets creamy. For extra flavor and color, you can also add some frozen strawberries or raspberries to the blender before hitting the blend button.
9. Camu Camu Can Be Used in Other Frozen Desserts, Too
If the above recipe for vegan banana ice cream with camu camu didn't win you over, don't dismiss the idea of a frozen camu camu dessert just yet. In the guide and cookbook Peruvian Power Foods, for example, registered dietitian Manual Villacorta shows that you can also use camu camu powder to give popsicles and frozen yogurt a boost.
10. Make Energy Bars That Feature Camu Camu
Homemade energy bars are the perfect on-the-go snack. Typically made using ingredients like honey, raisins, nuts, seeds and grains, homemade power bars are usually rich in vitamin E, protein and minerals. And, if you incorporate a teaspoon of camu camu powder into your favorite energy bar recipe, your power bars will also be loaded with vitamin C! To learn how to make energy bars at home, check out Power Hungry: The Ultimate Energy Bar Cookbook which is packed with inspiring recipes for homemade energy bars, covering everything from protein bars and endurance training bars to granola bars and raw food bars.
Can't wait to start using camu camu powder? If you got inspired by the camu camu recipes and serving suggestions listed above but don't have camu camu powder in your superfood pantry, order it today through

Amazon.com,

Amazon.co.uk or

Amazon.ca.
Don't Miss This

Health Benefits of Artichoke Hearts Uncovered
Learn why you might want to incorporate this unsung superfood into your diet.
More to Explore
Book You May Like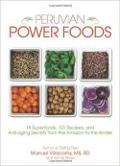 Did you know that some of the most nutrient-dense foods on the planet hail from Peru? In
Peruvian Power Foods
registered dietitian Manuel Villacorta provides
101 enticing recipes showcasing Peruvian superfoods
like camu camu, quinoa, maca, avocado, lucuma, cilantro, yacon, papaya, sweet potatoes and many more! Jam-packed with nutritional info and stunning photography, this exciting 300-page guide and cookbook is
available through Amazon
.